Conor McGregor, Rose Namajunas and PTSD
You don't overcome trauma like Rose experienced. You just live with it.
Please hit the little heart button up above and help boost this post so more folks can read it.
---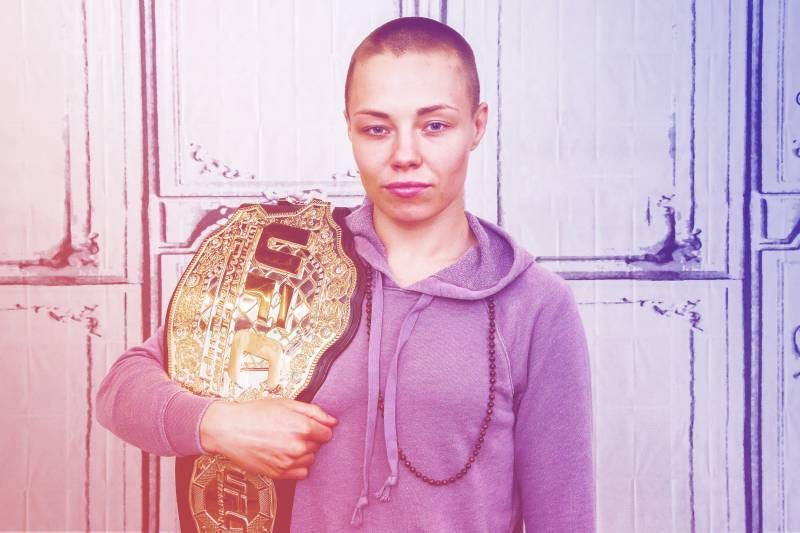 Last March, I was sitting in a cafe on the outskirts of Denver, the area where the steel turns into snow-capped mountain ranges. Across the table was Rose Namajunas, who I'd been assigned to profile for a Bleacher Report story ahead of her rematch with Joanna Jedrzejczyk, which would take place a few weeks later. It was my second profile of Namajunas; the first was ahead of her TUF Finale championship fight in 2014. The pitch for the new story was the same pitch we'd been running since Namajunas walked onto the TUF set and Dana White deemed her the next Ronda Rousey.
But then it all changed.
Namajunas had just finished telling me how she doesn't really like fighting that much, not at all, and how if she had the money right then to retire and work on her dream project of creating sustainable gardens in metropolitan cities, she'd walk right away and never be seen again. She didn't care about being the champion. She didn't care about proving herself against others. Fighting was her way of getting to the place she really wanted to be, which was somehow, someway making the world a better place. 
I couldn't write the story I was sent to write. She wasn't the next Ronda Rousey. She was the opposite. She was something else entirely. 

Traumatized
Two weeks after I left Rose's home she shares with Pat Barry in Denver, she was sitting on a bus in the depths of the Barclay's Center in Brooklyn, next to the loading dock. She was staring out the window, Barry sitting next to her. She'd just finished the UFC's traditional and bland media day event, answering the same question from dozens of different reporters, and now she was heading back to the fighter hotel to try and get some rest.
The bus was getting ready to depart, and that's when a crazy person ran into the cavernous area, eyes bulging, spittle and expletives bursting from his mouth in unison. The crazy person was Conor McGregor, the biggest and richest superstar the UFC has ever seen. And, as we began to discover that day, he was also perhaps its most unhinged. 
A few days earlier, McGregor's teammate Artem Lobov had an altercation with Khabib Nurmagomedov, a fearsome Dagestani lightweight with warlord connections whom McGregor had been feuding with. These altercations are regular occurrences during UFC fight weeks, because these are fighters, after all, but most of them are minor and never even make the public eye. The confrontation between Lobov and Nurmagomedov, in the grand scheme of things, was a minor thing. But in McGregor's addled mind, it was reason enough to charter a private jet, round up a bunch of his friends and fly to New York to seek retribution.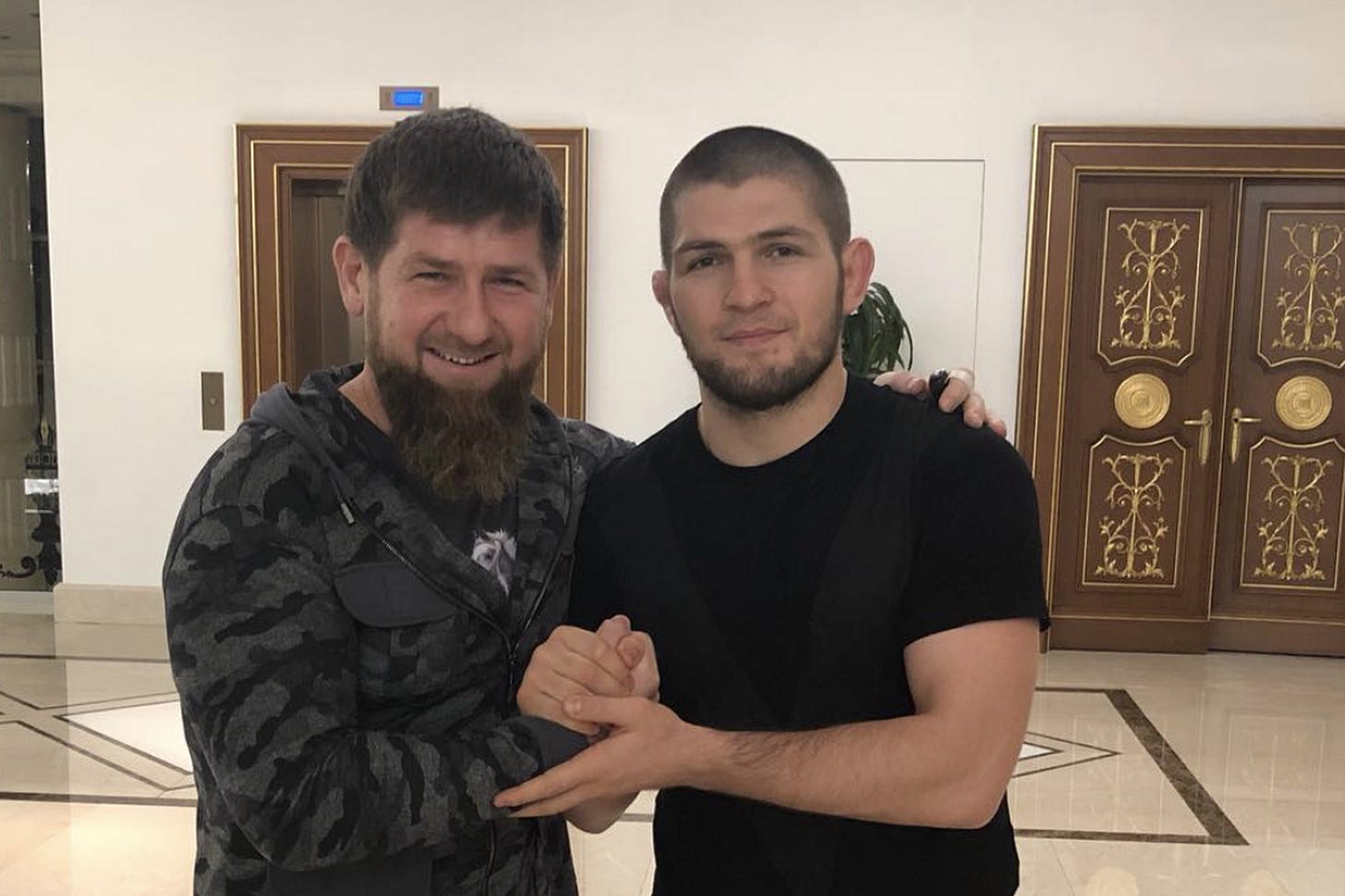 It seems clear McGregor is not familiar with Nurmagomedov's circle of friends, which includes man named Ramzan Kadyrov; Kadyrov is a warlord who does not prefer free speech and has an affinity for purging his country of gay men. I realize McGregor is a very tough man, because you have to be tough to do what he does for a living, and I realize he probably thought this retribution was the way real men handled business.
The one thing he forgot—and the thing he continues to forget even after having his ass thoroughly beaten by Nurmagomedov last year—is that Khabib is not someone who pretends to be a gangster because it looks cool. Nurmagomedov is a very serious man who is surrounded by very serious and evil people.
McGregor should have considered that escalating things with this sort of man—a man who embraces a warlord who has people tortured and killed just for being who they are—maybe wasn't such a good idea. After all, McGregor and Nurmagomedov likely have very different ideas of how these sorts of disputes are handled.
McGregor wanted Nurmagomedov to get off the bus so that he and his buddies could jump him. Nurmagomedov, of course, had no interest in getting off the bus to be jumped by a gang of angry Irishmen, and stayed put. So McGregor started throwing things at the bus.
There was a trash can, which didn't do anything but did resemble a bad WWE backstage skit. But then McGregor threw a heavy metal dolly. It went through one of the bus's windows, sending shards of glass flying. Some of it found its way into the face of Michael Chiesa, who was scheduled to fight the next day and who obviously did not fight the next day. Ray Borg suffered lacerations of his eye from the glass.
Namajunas wasn't touched by the glass, but she was affected in a different way, one that lasts far longer than any injury.
Once McGregor and his gang were gone, Namajunas got off the bus and walked back to the hotel in silence. She fought and won two days later, but things were different. The fear was part of her. Cuts and injuries heal quickly. You can treat them. What you can't treat and fix is the way a terrifying situation implants itself in your head, shakes you to your core and becomes part of you.
When she returned to Denver, she became a recluse. She and Pat would go to the gym for training, and then it was straight back home, and there Rose would stay until the next day, often in bed, sometimes sprawled in front of the TV. She couldn't go outside. She couldn't be around groups of people. She couldn't go to a place where she might let her guard down, because what if it happened again?
Of all the damage Conor McGregor did that day—in whatever state he was in after a spending 11 hours on a private jet building up for that very moment—the person he hurt the most was Rose Namajunas.
Because injuries can heal. But trauma? PTSD? It's a motherfucker.

PTSD is unexplainable and yet crippling. I know this, because I have it. I've got the VA documentation and everything. War can fuck with a person in all sorts of ways, but the brain is the one thing it affects the most, and there's no way of predicting how or when it will manifest.
If I'm in a room filled with people, or an arena for a concert, or really any place where more than myself and my wife are gathered, I start getting this nervous feeling, and then I find an exit or look for an excuse to leave. Because I just can't be there anymore, and I can't tell you why. I can't tell you why any sort of loud noise still sends my heart racing, because it's been fifteen years since I've had a mortar explode near me, and yet it sometimes lingers and feels just as vivid as it did the day it happened. And far too many people just like me decide they've suffered enough.
I am astounded by Rose's decision to fight two days after the attack, but the thing about PTSD is how it's not immediate. It's a thing that builds dark new bricks in brain over long periods of time, especially if you do what I did for a long time and just not talk about it. Rose was traumatized two days after the attack, but she could put up mental blocks back then. It gets harder to do that as time goes on.

So it's a year later, and Rose is fighting Jessica Andrade in a few hours.
Make no mistake: Andrade is a fighter who could beat a version of Rose that never went through her trauma, never experienced the anxiety and the fear and the waiting. Andrade is good. She is fucking terrifying.
But if Andrade beats Rose tonight—the Rose who did experience trauma and who did shut the world out and who will never be fully free of her new demons—the stories you read after the event won't be about Andrade or how good she is. They'll be about Rose and her mental state and how she couldn't overcome what she needed to overcome in order to get the job done.
It'll be will she ever be the same again (no, she won't ever be the same again, but I'm not talking about fighting) or is she not mentally strong enough to be a fighter anymore (of course she is, and if I see this story published anywhere, it's going to get ugly) or the old classic maybe she was just never that good in the first place (If you write this, you should never write again. And also, fuck you).
All are lazy writer tropes, the things we rely on when we're tired and just want to go to bed, so we write the easiest thing and call it done.
But the worst part of all these angles is that none of them convey one simple fact: That Rose will never, ever get over what happened at the hands of Conor McGregor.
She'll get to a place where she appears normal. She'll get to a place where she's absolutely fine, even for months on end. She'll even get to a place where she's happy almost all the time. She might beat the absolute brakes off Jessica Andrade, beat Jedrzejczyk 10 more times and keep winning until she retires undefeated. But if any of that happens, it won't be because she vanquished trauma and knocked out PTSD. That stuff is going to be with her for the rest of her life.
If she wins and keeps winning, it's for one reason only: because Rose Namajunas is a fucking brilliant and great fighter. That's her story.
(The original version of this story incorrectly said it was Michael Chiesa who suffered eye lacerations. That was actually Ray Borg. The story has been corrected.)
If you enjoyed this story, please consider a subscription to Whizzered.