Conor McGregor's PR Strategy is a Short and Long Term Play
But will it be effective?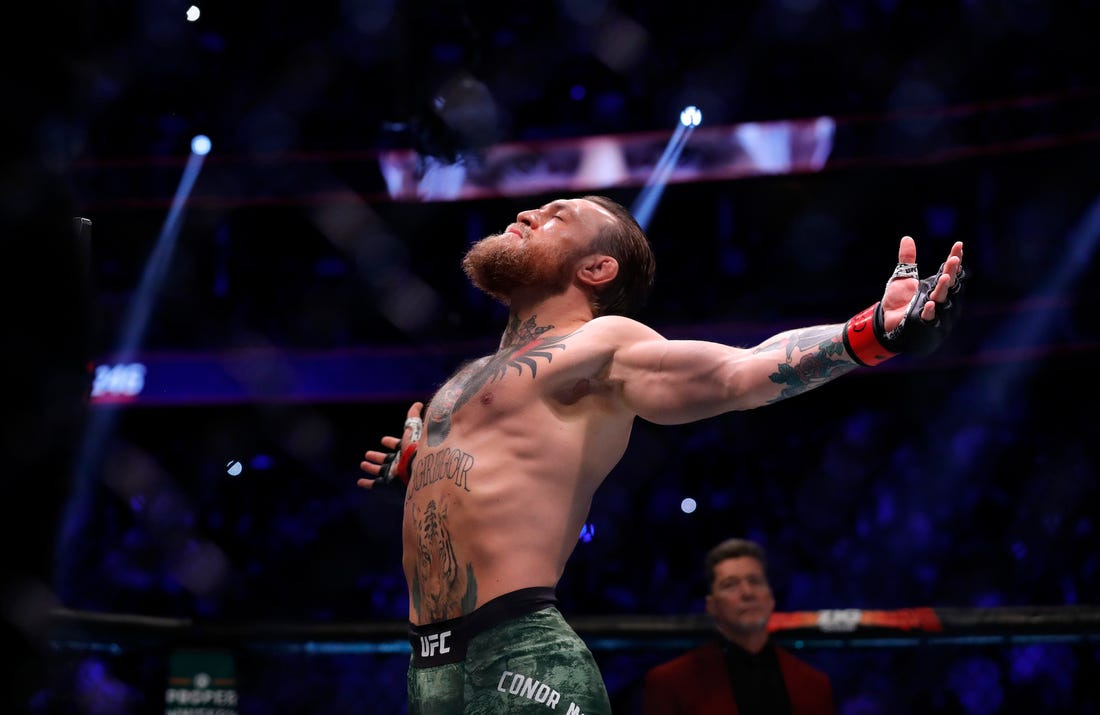 UFC 246 fight week felt a lot like the old days, back during McGregor's heady rise to become the biggest star in the history of the sport.
It was intentional.
---
There have always been smart people in the UFC's public relations department and in the top-down organization McGregor has built around himself. But when a fighter as successful as McGregor doesn't want to do something—or doesn't want to listen to somebody—there's just not a whole lot they can do in terms of shaping and developing a message.
Before he became a disgustingly rich purveyor of bland white labeled whiskey, and before his photo was sprawled across the pages of the New York Times, McGregor was a very good fighter. He was also a brilliant public relations strategist. He crafted a narrative for each of his fights as he climbed the ladder. After things turned out exactly the way he drew them up in his head, he immediately unfurled a story for where he was going next. He said a lot of crazy things, sure, but he stuck to the message. It served him well.
But any sense of message cohesion—or anything resembling sanity—up and fucking vanished after he boxed Floyd Mayweather Jr.
---
By the time he started his media tour to promote UFC 246, McGregor had done incredible harm to his reputation, including back home in Ireland. Before Mayweather, a McGregor fight week in Vegas was a spectacle for those of us who lived there. The Irish would arrive on Tuesday or Wednesday and immediately made the city—or at least the MGM Grand and surrounding properties—into Dublin, USA. It was wildly entertaining and probably chopped a good year off the end of my lifespan.
It was worth it. Especially on fight night.
Stores in the area stocked up on Irish flags and still sold through their inventory. When McGregor finished Chad Mendes, the fucking arena EXPLODED. When he dropped Aldo in 13 seconds? Rapture. And he'd get on the microphone and thank Ireland for their support, and the place would go crazy once more. The dancing and singing would eventually spill into the casino and then out on the strip under a starless sky.
You might've noticed the diminished Irish habitué last night. McGregor has used rallying cries for his entire career, but this time, Ireland, we did it!, didn't elicit the same response. And while there were a few flags in the arena, it just wasn't like it used to be, and McGregor knew it.
---
McGregor is still one of the most famous people in the world. There were in excess of 10 million Google searches for variations on his name yesterday, which is on par with the world's top sporting events. Even here in Texas, where Texans are much more likely to buy something 'Merican than foreign (which is pronounced "forn"), McGregor's whiskey sells out consistently.
But it was obvious from his first media appearances to promote UFC 246 that McGregor knew the damage he'd done. Also obvious: He'd spent some time developing a messaging strategy, either on his own or in conjunction with his team. The message was: Conor is back to being the guy he used to be. The guy you all loved. He's just a fighter, you know, and fighters just want to fight.
He hewed close to the narrative all week long. The UFC dutifully played their part in spreading it and avoided any mentions of his varied troubles outside the cage. McGregor put the final stamp on the week when he gave Donald Cerrone a shit-kicking so severe it resembled Jon Jones' grotesque manhandling of Vladimir Matyushenko a decade ago.
---
As McGregor was walking to the cage, I tweeted this:
As you'll read for yourself in the responses, there were a lot of McGregor fans who didn't understand why I sent those links at that moment in time. But these two stood out to me, so I'd like to address them.
I tweeted those links because, ever since fight week began, and ever since McGregor began doing his media rounds, the world was presented with a Conor McGregor Story with the bad stuff left out, and he executed that narrative effectively. The whole point of good public relations is to make the world remember the story you want them to remember, even if it's incomplete or fictional.
But I think it's important, especially in this new "gut feelings = facts" world," that we be reminded of the real story. Warts and all. That's why I shared those links last night. As for why I chose that specific time? It was the moment I'd get peak visibility, obviously. That's a basic marketing precept.
After the fight, I began receiving replies from very intelligent McGregor fans. Most of them felt like McGregor's dominant win was a gotcha moment for all of his doubters, like what happened in the cage somehow dimished the allegations he faces outside of it.
This is fucking stupid.
And if you are one of those people, you are also fucking stupid.
---
For those who made it to the end of this edition of Whizzered, here's a sneak peak at our WEIRDO JOURNALISM shirts. They're coming soon and will be available on our new store, which is also coming soon and will feature some fun non-Whizzered merchandise you might be interested in.