Fight Week: Covington's Gimmick, McGregor's Title Shot, Cejudo Threatens Retirement
Introducing our new (and free) weekly newsletter

Hello, reader. Welcome to Fight Week.
When we began development on this newsletter in August, we had one goal: We wanted a newsletter for people who want to follow the sport of MMA, but lack the time required to do so. The UFC's event calendar and swollen roster is daunting even to the most ardent fan or full time journalist. And that's just one promotion.
Visit any major media outlet and you're inundated with endless headlines designed more to entice your mouse pointer than to inform. It's frustrating, and it's enough to turn people away from the sport.
We created Fight Week with those folks in mind.
Each issue of Fight Week will include:
Expansive looks at 3-5 of the biggest stories in MMA

A viewer's guide for the upcoming weekend

Stories we think you'll enjoy from MMA and beyond

And more
If you enjoy Fight Week, please consider supporting our work with a subscription. Subscribers receive every story we publish, plus full access to our archives and more. More information about becoming a supporter can be found here.
Fight Week readers can get 30% off by using this button:
If you enjoy this newsletter, please consider sharing it with your friends.

"He's not really like that"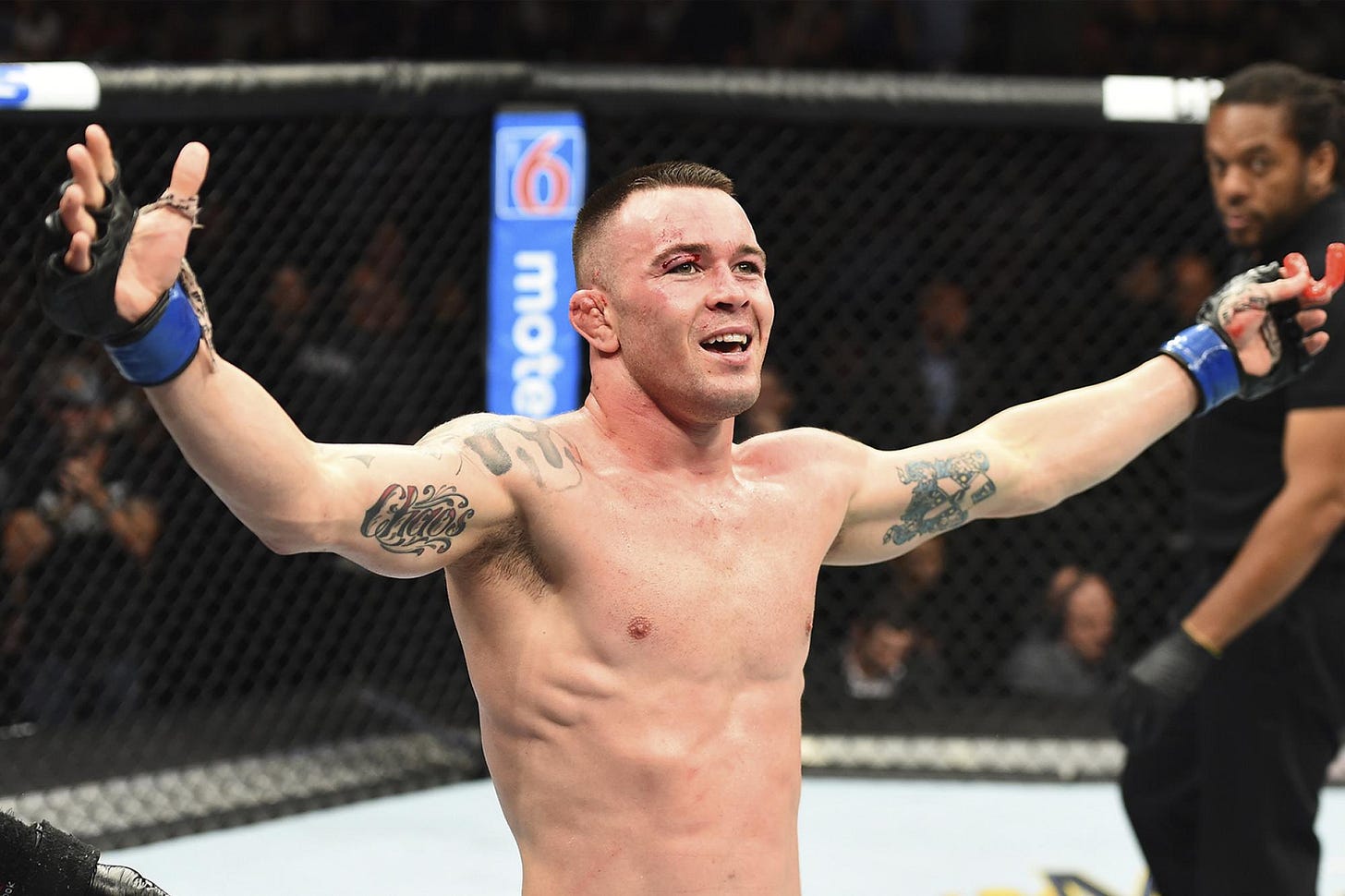 Saturday's fight between
Colby Covington
and
Kamaru Usman
is a brilliantly intriguing matchup between the world's two best welterweight fighters.
Usman, the UFC's welterweight champion, is an absolutely savage fighter. Covington only does one thing, but he does it so well that he's become virtually unstoppable. It is a fight that intrigues on its own technical and tactical merits.
But like any other Covington fight, the pre-fight narrative this week centers on all things MAGA. We media types will frown and shake our heads because we don't approve of such behavior, but you bet your ass we're still going to get three or four super clickable headlines out of it. Covington knows this because he knows the MMA media better than we know ourselves. He knows how we'll react, not just because we are entirely predictable, but because he studied human behavior. He has a degree in sociology.
So we're used to fight weeks with Colby, because we know what to expect. But this time, there's an uptick in the He's Really Not Like That stories that attempt to paint Covington as a regular dude who pretends to be a hate-monger in order to make more money.
That Covington is playing a gimmick will surprise no one. I've written about this, most notably when I revealed Covington hadn't even voted for the president he claims to support. But until this week—until Damon Martin's story at MMAFighting—it wasn't a major talking point.
We'd all love to make more money, and some of us are willing to abandon our principles or modulate our values to do so. I have. When FloSports offered me an astronomical six-figure deal a few years ago, I abandoned my journalistic principles and ethics in the blink of an eye. So while I'd love to sit here and cast judgment on Covington, I just can't. I have done things for the money.
Ben Fowlkes touched on this subject for The Athletic:
As a defense of one's unsavory actions, claiming you just did it for the money only gets you so far. Many people who do bad stuff are motivated by money. Simply explaining that they did it for financial gain and not solely for the sheer joy of making the world a worse place doesn't typically get them off the hook. Doing stuff for money doesn't instantly obscure your true character. It's the opposite, in fact, because one of the things we learn about you is what exactly you're willing to do for money.
The people who tell you he's not really like that are trying to give us a glimpse at who the real Colby is, and they're succeeding. Just not in the way they intended. He might be the nicest guy in the world when the cameras are off, and he might be the best teammate a fighter could have. But he made the decision to align himself with a hateful, divisive movement in order to fill his bank account.
Judging by this very (un)scientific poll, people aren't paying to watch him lose; they're just not watching.

Dana White Tries To Explain McGregor's Potential Title Shot, Fails Spectacularly
Dana White says Conor McGregor will fight Khabib Nurmagomedov for the lightweight title as long as he beats Donald Cerrone in a welterweight fight.
McGregor, who has not won a UFC bout in three years, will bypass Justin Gaethje despite Gaethje's streak of first-round knockout wins in the lightweight division. This decision is absolutely dumbfounding and also not at all surprising to anyone who has followed the UFC. White tried to give an explanation for the decision, but it's entirely made of bullshit. The truth is that title fights, for the most part, are not granted based on merit or accomplishment. The fighter who can give the UFC the largest possible windfall will always skip over those who actually deserve it.
Here's what White said:
C'mon guys, look what Conor's done over the last however many years. Then he loses to Khabib (Nurmagomedov) in a fight that was—when you talk about bad blood—it's like the next level of bad blood. Gaethje was on his way up, too. We've offered Gaethje a lot of fights that Gaethje hasn't taken, either. So Conor's in line next for (a title) fight if he beats 'Cowboy.
Here are some of the things "Conor's done over the last however many years:"
Charter a private jet to fly to New York with a bunch of his cronies in order to attack Nurmagomedov

Lose to Nurmagomedov

Lose to Floyd Mayweather

Find himself under investigation after multiple women allege he sexually assaulted them.

Assault an old man in a Dublin pub

Charged with robbery and criminal mischief after smashing a man's phone in Florida.
I could devote an entire issue of this newsletter to McGregor's salacious life outside the Octagon.
White can't reveal the true reasoning behind this decision—that title fights aren't granted on merit or accomplishment, but on how much money you can bring to the UFC—so he bloviates and just says whatever.
The Bottom Line:
If you still cling to any notion that the UFC rewards fighters based on merit, it's time to wake the fuck up. McGregor could lose four fights in a row and he'd still be booked in title fights. Only a conviction and jail sentence could make the UFC get out of the McGregor business. Even then, I'm not entirely sure they would.

Cejudo Wants a Raise or He'll Retire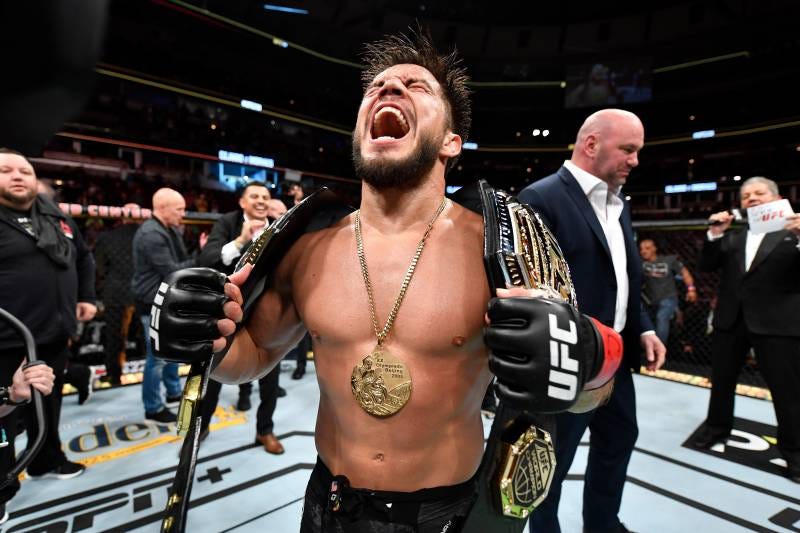 Henry Cejudo is the UFC flyweight and bantamweight champion, but feels he is underpaid and will retire if he doesn't get what he wants.
Henry Cejudo's exploits outside of the cage are cringeworthy and difficult to watch, but there is no doubt he is one of the UFC's best (and potentially most marketable) fighters.
But Cejudo is unhappy with his contract and says he will walk away if the UFC doesn't pay him what he deserves.
Here's what he told MMA Fighting:
I'm in this game for 100-percent money. I'm in this to make money, I'm not in this for another championship. I've accomplished everything I've wanted to accomplish. There's only one thing missing: A whole bunch of zeroes behind me competing and entertaining a bunch of people. I want to fight the best but if the number doesn't equal out to what I feel like I'm gonna get paid, then I'm out, they can keep both belts.
The Bottom Line:
Cejudo is a remarkable talent in the cage, and a unique personality outside of it. But the current landscape—with ESPN paying a flat sum for exclusive rights to UFC pay per view events—means athletes have even less power than they did before. Unless Cejudo becomes a bonafide television and pay per view attraction, the UFC has little incentive to pay him what he likely wants.
If he walks away, might we see Cejudo in a pro wrestling ring? It's possible. Cejudo was recruited by WWE before his MMA career started; Vince McMahon wanted him to portray a Mighty Mouse character due to his size. We've seen Olympic-level wrestlers adapt to the athletic side of pro wrestling quite easily in the past, and Cejudo would be no different.

Viewer's Guide
The UFC is the only major promotion running an event this weekend, so this viewer's guide is shorter than future installments will be.
UFC 245
(12/14—ESPN+ PPV)
We've got three title fights here, but it's the rest of the card that firmly plants this in must-watch territory. Urijah Faber vs. Petr Yan and Jose Aldo vs. Marlon Moraes are on the PPV card. The prelims are highlighted by Matt Brown vs. Ben Saunders, which is a fight I never knew I wanted until it was announced.

On Whizzered:
MMA Stories You Have to Read:
Other Stories You Should Read:

Also in the News

If you enjoyed this newsletter, please considering sharing it with a friend or becoming a subscriber.