Flashback: The Obsessions of Jon Jones
Revisiting my 2014 profile of the UFC's greatest.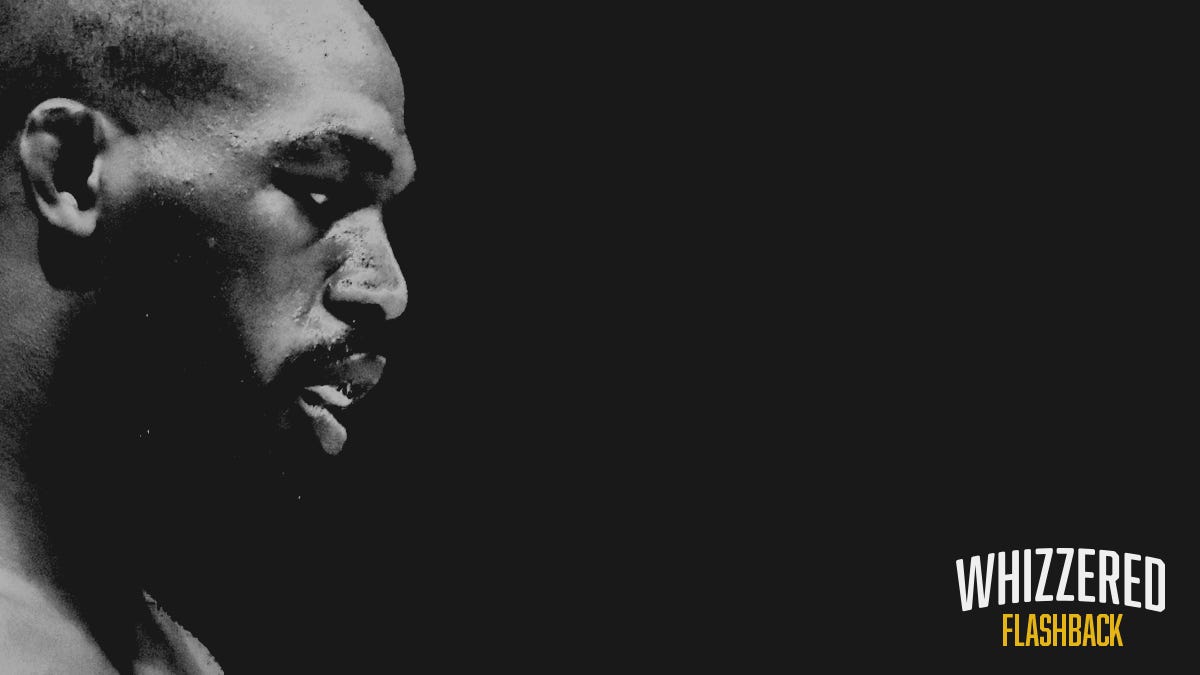 Originally published April 23, 2014 - Bleacher Report
ALBUQUERQUE, N.M. — It's 8:45 in the morning, and I'm standing in the lobby of the famed Jackson/Winkeljohn Mixed Martial Arts gym. Photos of the gym's fighters through the years line the walls, and the gray reception desk is covered with boxes and mail. 
Jackson/Winkeljohn is not what you expect a famous gym to look like. It has churned out champions for years and has been home to some of the most famous fighters in the world. Given this, one might expect a large building with high-tech equipment and all the latest amenities designed to produce incredible athletes.
That is not the case.
The gym is modest, located in what might best be described as a sketchy part of town. It is one of those places where, unless you know exactly where you're going and what you're looking for, you might not find it at all and end up in a place you don't want to be.
There are mats and there is a cage, but not much else.
This was the old Jackson/Wink gym. The new place is very nice and clean and modern. Everything gleams. It is a modern facility built for modern athletes. 

The old gym was not clean. It was small and smelled like wet dog butts. But it had character and history. For me, that beats floatation tanks and pools with treadmills and cryotherapy tubes. 

The best gyms in the world are shitholes with peeling paint and a permanent case of "guess that smell." It's a fact.
The gym is quiet this time of the day. Just inside the main entrance, Julie Kedzie is riding a stationary bicycle. Kedzie's fighting days are over, but she remains the heart and soul of Jackson/Winkeljohn. She is usually the first to arrive and the last to leave, spending her time assisting head trainer Greg Jackson and filling in when training partners are needed.
Kedzie's dog Bailey pads around the gym. Bailey is a pit bull/Rhodesian Ridgeback mix. She is massive, and I find myself hoping she has already eaten breakfast. Right now, she is trying to find Kedzie but not having much luck. Kedzie whistles and calls her over, offering her reassurances that all is well.
"She gets nervous when she can't find me," Kedzie says.
 I miss Julie Kedzie.
The gym's pro practice is scheduled to begin at 10 a.m., and the building begins slowly filling up with fighters. Kyle Noke is the first to walk through the front door. Then there's Tim Kennedy, preparing for a bout with Michael Bisping. There's also Travis Browne, readying himself for a title-contender bout with Fabricio Werdum. Andrew Craig, Clay Guida, Holly Holm and countless others pile in. 
Of the names in the previous paragraph, I believe only Holly Holm remains an active Jackson/Wink fighter. Greg Jackson's reputation drew fighters to Albuquerque like moths to a flame, but Mike Winklejohn has proved equally effective at driving them away.
At 10 a.m. on the dot, the man many believe to be the best mixed martial artist in the world pulls into the parking lot in his Roush Ford Raptor. He strolls into the gym, clad head to toe in black and red Nike Pro Combat spandex, and heads to the mat for practice.
Jon Jones has arrived.
"10 on the dot" makes it sound like Jones showed up on time. He did not. He was supposed to meet me 90 minutes earlier. But after dealing with Conor McGregor—who operates on whatever time he feels like—I'll take 90 minutes.  
I said hello to Jon when he arrived. He looked at me quizzically, like he didn't recognize me.

I found this hard to believe. After all, he tried to hit on my sister in Houston a year earlier, but instantly moved on when she told him who her brother was. And the next night, I helped him avoid a very drunk Don Frye who, for some reason, had decided he wanted to fight Jon Jones in the street outside a Mexican restaurant. I'll tell that story someday.

Jon knew me. But he introduced himself to me every time our paths crossed. Hello, I'm Jonathan. It was infuriating.

Today, it's been more than ten years since we first met. I have been in his home. And yet, when I ran into him in Albuquerque this summer, he did it again. 

Jones, the UFC's light heavyweight champion, faces the next test of his already legendary career at UFC 172. He'll face Glover Teixeira, a Brazilian slugger who has not lost a fight in eight years. The UFC has sold Teixeira as Jones' most dangerous opponent to date. But then, that's how they always sell his opponents, and still he has defended his championship a record six times.
I came to Albuquerque for one thing: to see what a day in his life looks like.
Jones is a complex and interesting character. He is highly intelligent and self-aware and likely the best fighter we've ever seen in mixed martial arts. I want to see what makes him tick. I want to see if he is just as obsessive in his everyday life as he is in the cage.
Narrator: He isn't.
After a brief warm-up, Jackson begins leading the fighters in the first session of the day. They're working on grappling techniques against the wall today. Jackson offers an explanation for what he'd like to see, and then the fighters pair up to go through drills. Jones is matched with Browne. They drill the technique for a few minutes, then switch partners. Jones pairs up with Kennedy. Jackson demonstrates a technique for releasing the clinch against the cage and immediately executing a spinning back elbow.
"Set the table up," Jackson yells. "If they want a takedown there, they're gonna be in trouble."
Jones and Kennedy work the technique. Jones is famously versed in both spinning strikes and using his elbows to devastating effect, but today is not about causing harm. It is about technique, about getting it right and about making it second nature. Jones and Kennedy use slow movements, attempting to execute exactly as Jackson wants them to.
I want to point out a hallmark of lazy writing: "The technique" is a phrase I used when I did the reporting and first draft. I didn't know what they were doing and neglected to ask. "The technique" was supposed to be a placeholder until I could fill in my knowledge gap, only I didn't fill in the gap. That's lazy, and I hated myself for allowing it a place in the final draft. 
"I want grace under pressure," Jackson says. "The more tired you are, the stronger you should appear."
Greg Jackson is a smart man, but his true brilliance lies in saying the right thing at the right time to the right person, and with the right tone. It doesn't even have to make sense. He just has a way. There are no other coaches who can do this. Hell, 99% of humanity lacks this trait.  
A bell rings. It is time for a water break, so the fighters relax, and Jackson/Winkeljohn suddenly resembles a hippie commune. That is, if the hippies were world-class athletes. Guida and other lightweight fighters, who won't begin their pro class until the heavier-weight fighters are done, relax on the mats and carry on conversations. More dogs have arrived at the gym, and they freely explore various nooks and crannies.
This is fluff. There were no nooks and crannies in that old gym. There was a huge rectangle room and some bathrooms and the front door. Andrei Arlovski's huge fucking steroid dog sniffed all the other terrified dogs and then went to sleep, but I decided to write about nooks and crannies, for some reason. 
The bell rings again.
"It's grappling time," Jackson says.
Jones and Kennedy pair up again. Jones begins on his back, with Kennedy in his guard. The idea is for Kennedy to improve his position while preventing Jones from escaping, but he is unsuccessful. For a brief second, he gives Jones too much space, and Jones does something surprising: He backflips out while pushing Kennedy away with his legs.
"Dude, did you see that move?" asks Malki Kawa. He is Jones' manager, and he's here in Albuquerque to check on his prized client. "Have you ever seen anyone do that before?" I admit that I have not seen anyone do this before.
I have not seen anyone do it since.
But it is par for the course with Jones, who displayed creative and unique techniques during his historic rise to the top. In his most recent fights, however, Jones has resembled a more traditional martial artist.
"I think I fight a little more safe than I used to," Jones says. "I don't do all the wild and crazy things I used to."
Jones' style hasn't changed much since this story. Before the Gustaffson fight, he took a lot of risks in the cage. After, he took very few. He became a smarter competitor. He also became, at times, frustrating as hell to watch.
Jones and Kennedy switch partners. Jones and Keith Jardine, a former light heavyweight contender who is now retired from the sport, go through the grappling process all over again. Jones struggles to escape against Jardine."Dude, you're strong," Jones assures Jardine. "You felt so strong there. I had problems." Jardine sheepishly shakes off Jones' praise.
Here's the thing about Jon. Even when you know for certain that he's not being genuine, he has a way of making you believe deep down that he might be telling you the truth. We've seen it throughout his career. 

Jones had no problem tossing Jardine around that day, and Jardine knew it. That Jon made a point of building up his teammate's flagging self-confidence shows a tiny glimpse of the decent character hiding behind his many public demons.
The gym is filling up with lighter-weight fighters. Guida, Isaac Vallie-Flagg, Erik Perez and others stand off to the side and warm up. Jackson calls an end to the heavier-weight fighters' practice.
"Twelve minutes until we warm up, lightweights," Jackson barks.
On the main mat, Jones continues grappling. I have heard that Jones has been especially driven during this training camp. Though he beat Alexander Gustafsson last year, the bout was far too close for Jones, and he is training like a man who never wants to experience a close fight again.
"I definitely know that I performed better in the past. It humbled me. A good humbling is always good, though. And it also let me know that I have heart," Jones says. "I trained my butt off to not have any close fights. And now that I've gone through a close fight—or a war, as some would call it—now I know even more about myself. I know when the going gets rough, I'm not going to give up."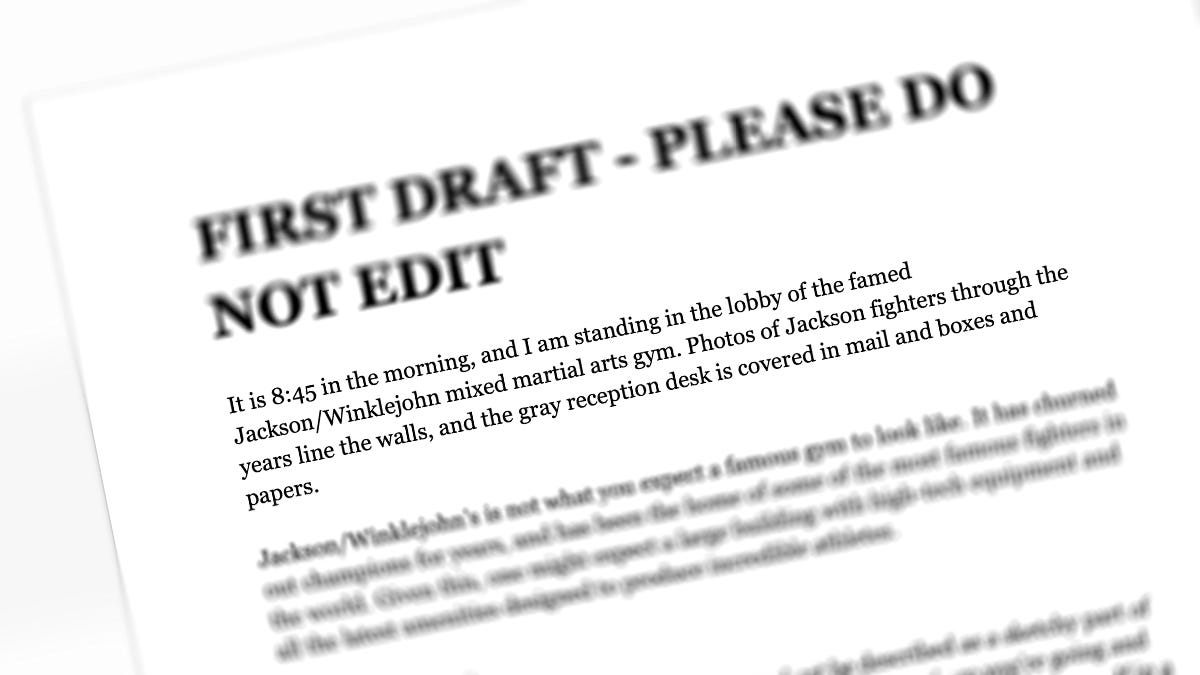 Stories about Jones during this training camp have been circulating around the gym: A training session will end, and everyone will walk off the mat. Everyone except for Jones, that is. He will beckon to a random training partner, telling them to come back on the mat for more work. A look of resignation fills their eyes. They know what is about to happen, and they're not particularly enthused by it. But they trudge onto the mat anyway, because that is what training partners do.
"I am aware of people's expectations, and it motivates me. I'm fighting against the top guys. Every fight I fight is against the No. 1 contender," he says. "So I'm aware that if I didn't work, I would not be here. Being the champ is an accolade. It doesn't give you any invincibility."
I literally hate everything in the last six paragraphs. Let's move on.
Kennedy leads the group in a post-workout speech, exhorting his teammates to continue giving their best effort in practice. Jones gets in the cage for a quick, light sparring session. As with the morning's grappling workout, he is not going full bore. His punches and elbows are more statements of intent than anything designed to do damage.
Jones finishes sparring. He comes over to me and introduces himself with a handshake, even though we have met many times.
"You want to grab some lunch?" he asks. I tell him I do. We head out to the parking lot and pile into his truck. Jones says he got the truck a year ago; an old friend from Ithaca recently drove it across the country so that Jones could have it during his training camp. I climb in the back seat with Kawa, and we are off.
Jones fires up the radio. He is listening to country music. I tell him that I didn't realize he was a country music fan.
"I don't listen to rap or hip hop during camp because I don't want the negativity," he says. "Everything is 'F this' and 'F that,' and I just don't want it around me."
Before lunch, we make a stop at Calibers, a local gun and weapons store. Jones is a gun enthusiast. Years back, he became obsessed with different rifles and the ways you can customize them. There are scopes and barrels and flashlights and tons of other things you can use to improve a rifle, and all are fascinating to Jones.
"They are my only hobby," he says.
Today, he owns 12 assault rifles. He is also a deadeye shot and loves competition shooting. For Jones, it is not the idea of owning a gun that is intriguing. He does not buy guns for protection. It is another outlet for his creativity and competitive nature, the part of him that will not stop brainstorming and planning.
We are stopping at Calibers because Jones has a new barrel for one of his M-4 clone rifles, and he needs to have it fitted by a professional. While a Calibers employee undertakes this task, Jones inquires with another about a scope he's had his eye on. He is disappointed to learn Calibers doesn't have this particular scope in stock. 
Here's one thing you should know about Jones: When he decides he wants something, he wants it right now. It is not the bratty tendency of a spoiled millionaire, but yet another way Jones uses strategy to control his life.
"If I decide I want something and I don't get it, then I'll be spending all my time thinking about it," he says. "And I don't want to focus on those things. All that time is taking away from time I can spend thinking about fighting. So when I want something, I buy it."
Kawa illustrates Jones' point by talking about the time Jones had his eye on a particular wristwatch. Kawa told him to wait, that he could get the watch for a reduced price, if only he would have the patience to allow him to make some calls.
This is what Kawa does: He negotiates. Everything. Later, I will listen as he spends five minutes arguing over the $15 shipping cost for another scope Jones orders.
Jones couldn't wait, though, and the next time Kawa saw the champ, he was sporting the wristwatch. He'd paid full price because he didn't want to wait. He doesn't want to wait on the scope, either, but he is resigned to ordering it.
After taking a few minutes to show Kawa a particular brand of knife Jackson has been raving about, we are off. We pass Bob's Burgers, which professes to be the home of something called the Ranchero Burger. Jones opens the sunroof and fires up the radio once again; this time, it is Bob Dylan.
The sun beams into the truck, adding instant warmth to a chilly day. It is too bright for Jones, who pulls his Nike hoodie over the top of his head.
"That Albuquerque sun," he says with a sigh.
**
Jones calls his fiancee, telling her he wants to drop by the house and pick up his credit card and some fruit. He rents houses in Albuquerque for his training camps. They are never in the same location, because he likes to keep things fresh. A pair of scooters—a recent purchase for him and his fiancee—sit in the driveway. Jones says he picked the house because of the quietness of the neighborhood.
"There are old people walking down the street every day," he says. "It's peaceful."
Jones picks up his fruit and credit card, and we head to lunch at the Elephant Bar Restaurant. It is a favorite haunt for Jones, and he is on a first-name basis with many of the employees. We occupy a booth in a corner of the restaurant and discuss his upcoming fight with Glover Teixeira.
This is the part I've been anticipating with dread. 

First name basis with many of the employees was a copout, plain and simple. 

What actually happened was this: We sat down and Jon immediately began hitting on the waitresses. All of them. He didn't stop until we left. 

My notes say he left with two phone numbers. I might've missed one or two when I went to the bathroom.

But I didn't write about this back then because I didn't want to burn my access to Jon or any of Malki's other fighters. When Greg Howard included a near replica of that scene in his Deadspin story, I was ashamed of myself, and of my total lack of courage. 
Jones maintains a "playbook" for each of his opponents. The notebooks are the result of studious film-watching and strategizing; Jones is a voracious viewer of film. Jackson says that one of his biggest problems with Jones during fight week is getting him to stop watching film of his opponents and go to sleep.
"For example: For Rashad Evans, we have this playbook. And it will tell you his tendencies and what techniques will work on him," Jones says. "And I could give you this playbook, and it will tell you how to beat Rashad."
Jones sees tendencies in Teixeira's game, weaknesses he believes he can exploit. He is not willing to share these tendencies, which does not surprise me at all. But it is not hard to imagine Jones, hunched over a laptop, watching and rewatching film of Teixeira while taking notes. This obsession is but one of the traits that separates him from the rest of the pack.
Jones was ahead of the game in this regard. Today, analytics, film study and planning are staples of fight preparation, but Jon was doing it when it was an afterthought to the rest of the industry. 
As we finish lunch, Jones tells us about a fan in Dubai who has invited him to come hang out. Normally, this type of request would be ignored. But this fan is different: He owns lions. A lot of them. Aware of Jones' fascination with the big cats, the fan reached out and made contact, and a friendship was struck. Jones is planning a trip to Dubai to see the lions and the rest of the city's sights.
In a few weeks, Jones' Instagram will become the focus of controversy. For now, the champion is simply amused by the service.
What actually happened on Instagram was this: Jones went on a homophobic rant against a complete stranger, then claimed his phone was hacked, then blamed an "employee" for the incident. I couldn't remember if that was an editing thing, or if it was something I wrote, so I did some digging and found my first draft. It was an editorial addition.  
"He's the only fan I've ever followed on Instagram," he says.
I don't know what it is about this story that always felt weird, but all these years later, it still does. 

A strange fan in Dubai owns some lions? And he wants to fly you over to, like, hang out with him and the lions? It's so weird that either 1. Jon made it up on the spot or 2. Folks in Dubai were playing around with the idea of kidnapping a famous UFC champion for ransom money.

With bellies full, it is time for another stop at a toy store for big kids. This time, it is Ultimate Car & Truck Accessories, where Jones plans on having all sorts of things done to his Roush.
The need to upgrade his truck is born of competition with his brother Arthur. This is no surprise, as life has been one long competition between the three Jones brothers. From wrestling each other in the basement as kids to upgrading giant, expensive trucks, each strives to do better than the other.
Arthur has the same Roush truck as Jones. He recently added some TVs in the headrests and new lights and other various knickknacks. Jon will do the same, because of course he will, but he will also take things one step further. No, Jon will take things 100 steps further.
He orders new headlights, a grill, monstrous tires, red running lights and other accessories that will make his truck the envy of every driver on the road. But more importantly, it will make Arthur envious.
"This is just Round 1 between me and Arthur," Jon says. "Once he sees this, he'll upgrade his truck again, and then I'll have to add more on mine. It never ends."
Jon doesn't have the truck anymore, but his Jeep is loaded to the gills.
During our visit to Ultimate Car & Truck Accessories, Jones revealed something that has Kawa fuming when we leave. In exchange for free parts and upgrades to his truck, Jones has agreed to an autograph signing for the paltry price of $10,000 at SEMA, the world's largest gathering of vehicle enthusiasts.
"Why didn't you call me, bro? $10,000? You should have called me. That's ridiculous," Kawa says.
The agent is mad, he says, because Jones' usual autograph signing price is $25,000 for two hours. Jones argues that he's happy with the deal because of the free upgrades and new toys for the truck. This does not satisfy Kawa, who seems mostly disappointed that he has missed out on a chance to negotiate.
Those who know Malki will tell you that he lives to negotiate. Anything. It doesn't matter what the subject or deal is. And he is very persuasive. Say what you will about some of the incidents in his past, but he's one of the best representatives a fighter could have in this sport.  
"How about you cut me a check for all the money I could have saved you at the end of the year?" Kawa says.
We are heading back to Jackson/Winkeljohn, where Jones will have his evening kickboxing session with striking coach Mike Winkeljohn. But first, we make a stop at another gun store.
This one is different. Calibers felt like the Best Buy of gun stores, with its employees dressed in nice slacks and shirts with embroidered logos.
This new store feels like the birthplace of a new Civil War. If gun lovers ever feel the need to rise up against the government, they would be well served by stocking up here. There are assault rifles, knives and even silencers (which are illegal in some states). There is camo netting on the walls, a "Don't Tread on Me" flag and little refrigerator magnets telling me to do my civic duty and rebel against "The Man."
This whole paragraph was supposed to be funny, but five years later it is not.
Jones has his eye on a new scope for the rifle he had fitted with a muzzle at Calibers. A store employee shows Jones his own competition rifle, which has the scope Jones desires mounted on top. They do not have it in stock, the employee says, but they would be happy to order it for him.
"I'll give you $1,000 for yours," Jones says.
"That's my competition rifle. I have to use it next week," the employee says.
"I'll give you $1,500 for it," Jones counters. The employee reiterates that no, he needs it, but he is happy to order it. Jones is disappointed that he can't have the scope right now, but orders it for $900 anyway.
As he waits for the employee to ring up his order, Jones switches the subject.
"Do you guys know what the UFC is?" he asks quietly.
I realize that not one of the store's workers has mentioned anything about fighting. They have not asked for an autograph or a photo. It is clear Jones is not used to this.  
They nod in agreement. The employee who helped Jones order the scope says they do, in fact, know what the UFC is.
"Well, I'm one of their champions right now. I'm Jon 'Bones' Jones, the light heavyweight champion," he says.
The oldest employee in the store speaks up. "We know who you are," he says. "Do you think we fawn over Greg Jackson when he comes in here?" another says.
Jones laughs.
"No, I guess you don't," he says.
I've written more stories than I can remember at this point. I've spent thousands of hours reporting from locations across the globe. 

This scene with Jon Jones, bashfully standing in an Albuquerque gun shop and wondering why he's not being recognized as the famous person he is? It's my favorite, and it's because this little moment revealed so much about Jon's humanity and his need for validation. And it resonates with me because I have the same trait.
After a day filled with guns, trucks, more guns and food, we are headed back to the gym. As we travel the highway at an uncomfortably fast speed, I make an observation to Jones: He is unfailingly polite to his elders.
"My brothers are the same way. We used to be complimented on that as kids growing up. People would tell my parents that their kids had good manners," he says. "My mom and dad taught us to never express ourselves negatively to adults. And now, even though I'm 26, if you are older than me, you get a please and thank you. It's something that I take seriously."
He gives the appearance of being remarkably grounded for such a rich and famous young man. He has no entourage, unless you count Kawa, who is with him more often than not. One of Jones' oldest friends from New York traveled to Albuquerque to stay with him during training camp.
"I was just there, on the other side of the tracks, just three years ago. So that's kind of who I am. I wasn't raised with a silver spoon in my mouth. I earned every ounce of success that I have gained," he says. "That's what keeps me grounded: just knowing that it all could be gone. You have to work hard to maintain it. You don't want to be the guy who was a jerk to everybody when you were on top of the world. If something ever happens, you still want to have friends."
Man, a lot of this didn't age well.
We continue driving, past West Mesa High School, the home of the Mustangs. Jones has opened the sunroof again, and the crisp, clean Albuquerque air flows noisily through the open windows. Though Albuquerque is not, and has never been, much to look at, one can see why so many great fighters have decided to settle here. The weather is nice. There are mountains. Its people look after their own.
There is no way I could have known if people in Albuquerque look after their own. Why would I write that? Fluff, again.
When Jones was deciding where he wanted to train, his choices came down to two: Jackson/Winkeljohn or Tristar in Montreal. Jones chose the former.
And now, with the sun slowly settling over the horizon, I can see why: There's just something about the place.
Jones pulls off the highway and turns left onto Route 66.
I'm not sure we were anywhere close to Route 66. I didn't document it, and I likely would have, because I've always been fascinated by Route 66 and this would have been the first time I'd ever been on the road. But I can't explain why I wrote it, either. 
A few minutes later, we pull into Jackson/Winkeljohn. Jones' demeanor subtly changes. A few minutes earlier, he was poking fun at Kawa and laughing. He was casual. Now, the smile is gone. The trucks, the guns and the toys are ancient history. His eyes take on a different look.
We are not yet inside the gym, but Jon Jones has already gone back to work.
This part was 100% true. Jon went from fun-loving to deadly serious in a milisecond, and it was jarring to witness.