McGregor announces UFC return. It probably won't happen.
Again.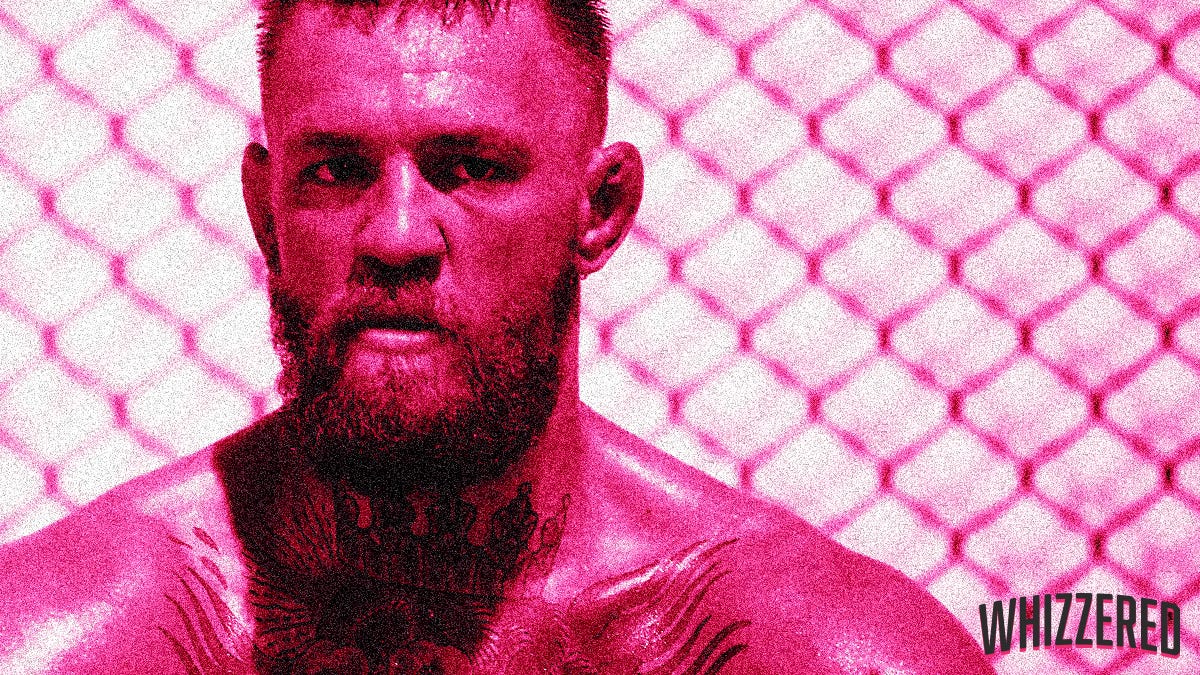 A few hours ago, Conor McGregor attended something that was
billed
as a press conference in Moscow.
It was not a press conference, at least not in the traditional sense. The "media" tasked with covering the event—which was held in conjunction with one of the UFC's many seedy international gambling partners—didn't ask anything remotely resembling a hard question. So, like most UFC press conferences.
And to be fair, the media in attendance just wanted to get the whole question-asking part over with so they could grab a quick selfie with Con. I get it.
I actually took a picture with a fighter after the first UFC event I ever covered as working media, because I didn't know any better. The fighter was Joe Stevenson. I took one selfie with a fighter and I chose Joe Stevenson.
Still, this whatever-the-fuck event was the first chance for McGregor to speak publicly on allegations that he sexually assaulted a woman in Dublin last week, or even the other sexual assault investigations he's currently wrapped up in. But nobody asked, and McGregor sure as fuck wasn't about to volunteer a comment on the subject without being prodded.
He did say, however, that he's fighting on a UFC event on January 18. That's the story now. Will he fight Justin Gaethje? Will he fight Donald Cerrone? Nobody's talking about sexual assault or criminal activity or prison time. Not anymore.
McGregor's back, guys!
How convenient.

McGregor is a star of such magnitude that he can change the news cycle or narrative with one utterance. It doesn't matter if the utterance is true. Today's truth is the latest thing we saw on social media, or the way we feel about a thing. This is because we are all stumbling headlong into our future Idiocracy.
McGregor's intuitive grasp of PR tactics and media relationship-building were a major asset in crafting his rise to the top of the sport. He had a magical thing going at the time: He said things were going to happen, and then they happened. We media folks were enamored with him. He was so fucking awesome at being Conor McGregor. We knew we could count on him to increase our metrics and our revenue, but also to back up his jackassery in the Octagon and keep the train rolling along for everyone. And he did, for a long time. And then his stardom outpaced the sport itself.
Which is when he stopped being creative, funny and charming.
He also began saying things that plainly were not true—whether they were in service of public negotiation efforts, out of boredom or to remind us who the real king was—on social media and in increasingly rare interviews. He was so offensive on Twitter that Dana White—a person for whom "being offensive on Twitter" is a real passion—had to step in and tell him he'd crossed the line. He has retired a couple of times, at least.
He has announced his intent to return or fight a handful of times; just last month, he targeted a December 14 fight in Dublin.
There is no UFC event scheduled in Dublin on that day.

We shouldn't take McGregor at his word anymore. And yet, here we are.
Again.
We're all lathered up and primed for The Big Return. And perhaps he will be in the Octagon on January 18.
But I have my doubts. The attraction-starved UFC—and especially their broadcast partners at ESPN—would love to have a McGregor fight on the docket, but it is far from a certainty right now. A source close to the promotion told me that January 18 is when they would like to see McGregor return. But no deal has been reached. According to sources, there's still a long way to go before an agreement is made.
McGregor's announcement was clearly designed to put pressure on the UFC during negotiations. And a few years ago, this kind of tactic would have worked. But the deal granting ESPN exclusive rights to pay per view events changed the balance of power between the UFC and its biggest attractions. As I wrote in May:
In order for these massive stars to get the paydays they demand, ESPN will have to be personally involved in sweetening the pot. There's no impetus for the UFC to give up a cut of their revenue to a fighter, because they're guaranteed money from ESPN regardless of who fights. The pay per view cuts will be vastly smaller, because the UFC's PPV audience has been cut by at least half, if not far more. The UFC doesn't have to concede to athletes in stronger negotiation positions anymore; they hold all the cards. They hold the guaranteed money. 
The UFC has repeatedly proven they have no issue promoting fighters with violent criminal backgrounds, as long as the fighters have recognizable names. Promoting McGregor even in the midst of sexual assault investigations would be very on brand.
The onus is on ESPN now. They are fine with promoting Greg Hardy, an unapologetic domestic abuser who was banished from the NFL for his actions and found safe refuge in the UFC. But is ESPN okay with promoting McGregor, even as Gardai conduct investigations into allegations that he sexually assaulted multiple women?
If so, then perhaps the UFC has found its perfect broadcasting partner.