Some kind of nightmare, indeed.
The MMA gods are assholes.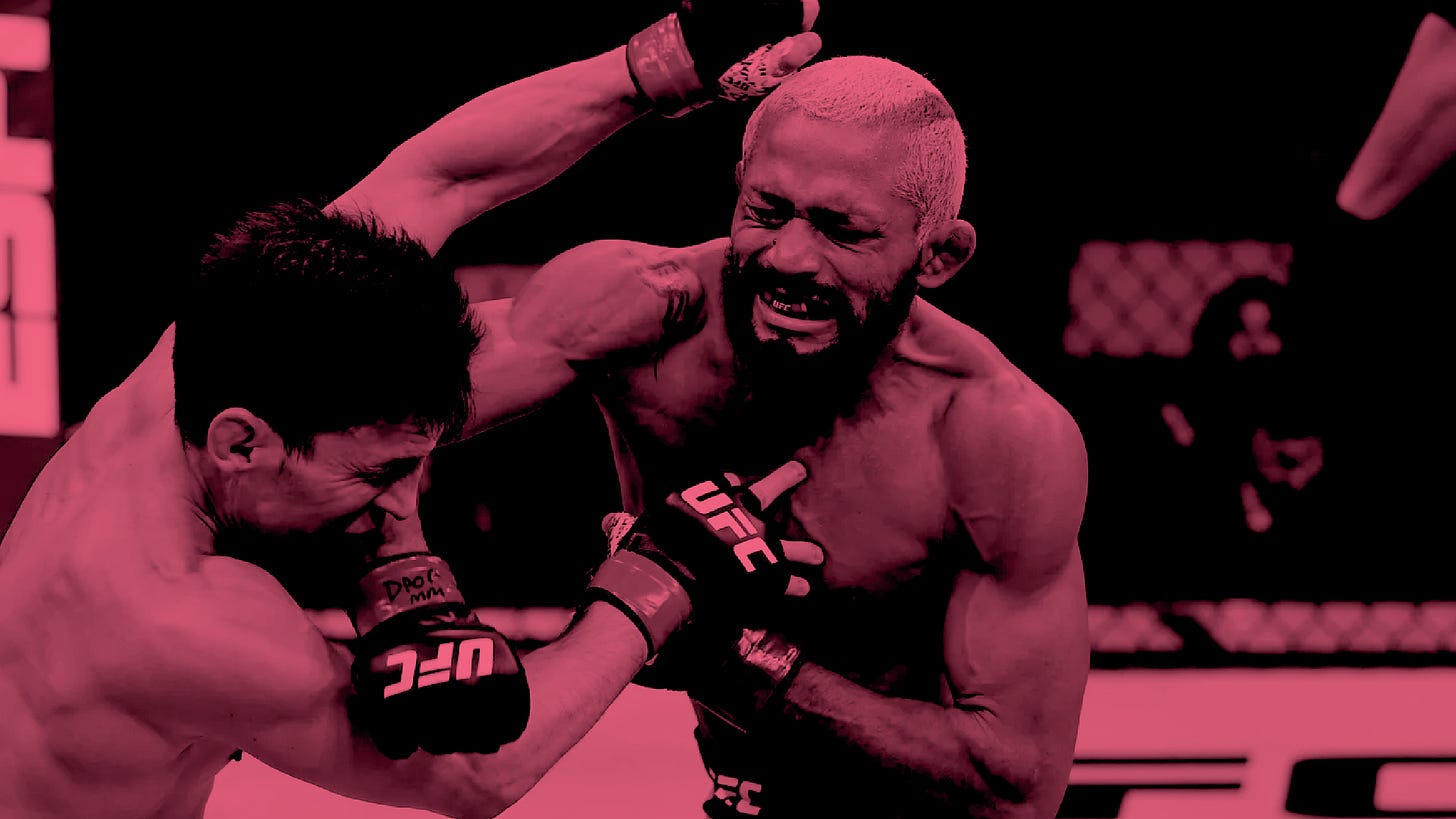 IN THE SPIRIT OF FULL DISCLOSURE, let me share two things with you today.
I have known Joe Benavidez for a very long time. He is one of my favorite people on this planet. When I lived in Vegas, Joe and I were movie-watching buddies. He was, and has been, a good friend. I grew close with his wife when we worked together. I attended Thanksgiving in their home. I watched him propose to her on one of those Thanksgiving days. I cried an embarrassing amount of friend tears when she said yes.

I am absolutely biased when it comes to my friends and anything I write should be taken with a grain of salt.

---
IN A PERFECT WORLD, Joseph Benavidez would've been the first-ever UFC flyweight champion.
This is not a shot at Demetrious Johnson. It's actually a compliment, ya know?Benavidez has been very good for a very long time. Look at his record. Look at all of those names he's beaten, all of those other very good fighters he beat, some of them twice. Jeff Curran. Miguel Torres. Jussier Formiga. Henry Cejudo. These men were the best his divisions (bantamweight and then flyweight) had to offer, and with the exception of Dominick Cruz and Johnson, Benavidez kept beating them.
Johnson is gone now, and it felt like Joe would finally get his due when he faced Deiveison Figueiredo for the vacant title on Saturday night. But mixed martial arts is an asshole, so instead of winning a belt he's chased for a decade, Benavidez is heading home without it.
So, too, is Figueiredo, who missed weight and thus lost the title part of his title fight. I have a hunch the UFC might just leave the flyweight belt in Norfolk and move on from a division they've wanted nothing to do with for quite some time. At this point, it might just be the right decision.
In other UFC Norfolk news:
Megan Anderson deaded someone named Norma Dumont—easily the most grandmotherly name in UFC history—last night and then said she's game for a shot at Amanda Nunes. She also said she'd be fine fighting Felicia Spencer. I have a better idea: What if Nunes fought Anderson AND Spencer?

Yeah, that's about it.
---
Other News You
Can
Live Without
Playlist
Megan Anderson—one of the two fighters on the Norfolk card I'd actually heard of—is absolutely terrifying.
I have never heard of Spike Carlyle—I'm not even certain that's a real name—but Alpha Ginger? I will remember that one.
SEXYAMA.IS. STILL. FIGHTING?
(swoon)
---
From the department of future sads
I saw this photo and headline on MMAjunkie.com out of the corner of my eye and thought, for one brief and terrifying second, that Donald Cerrone had signed with BKFC.
Thankfully, we're at least another year or two away from that being a real thing.