Khabib Nurmagomedov and his murderous dictator friend.
This is the online version of the popular Whizzered newsletter service. To get stories like this one in your inbox, enter your email address into the box below:
Khabib Nurmagomedov fights on Saturday. Nurmagomedov, the reigning UFC lightweight champion, faces Dustin Poirier—holder of the interim title—in Abu Dhabi. Poirier, who has traveled so far and so long to get to this moment in time, finally gets his moment in the ungodly Middle Eastern heat. Win or lose, if he is lucky, it will be a short night.
When he is in the Octagon, Nurmagomedov is perhaps—Francis Ngannou excluded, of course—the single most terrifying force in mixed martial arts. This is not hyperbole. Khabib is a man who is capable of doing whatever he wants against high-level athletes. And what he generally wants to do is to smother, suffocate and dominate so thoroughly, so completely, that his opponent can barely sniff the vim and vigor they felt only minutes earlier.
Nurmagomedov gets a special kind of glee out of physically breaking an opponent, of watching a soul leave a body. Training partner Daniel Cormier once told me that being underneath Khabib is just about the least fun position you can be in. People used to say the same about Jake Shields. They were right about him, but it's just worse with Khabib.
The icing on the cake is Nurmagomedov's trash talk. It isn't even trash talk. It's very matter-of-fact and calm. It's stating the obvious. It's like he's trying to help you out, as a friend.
You know you can't win. It's okay. You try hard. Just quit and we be friends again. You do better next time. Khabib help you.
Khabib has everything I love in a fighter. I'd love to get behind him and be a Khabib Guy and wear the papakha and everything. Fuck, I might even buy a Khabib fighter kit, if I could find one. Do they even make those things anymore?
But as much as I want to, I just can't be the Khabib guy. Why?
He has poor taste in friends.
The Genocidal Elephant in the Room
Ramzan Kadyrov is the Head of the Chechen Republic, a government created in 2003 after the fallout of the Second Chechen War. Ramzan's father, Akhmad, was the first Chechen president, and by 2007 the younger Ramzan was handed the presidency by Russian president Vladimir Putin, a position he still holds. There are elections in Chechnya, I guess; the last round took place in 2006, where Ramzan won with 97.94% of the vote.
In short, Kadyrov is the ruler of Chechnya until someone deads him, or until the world decides they've had enough of his crazy-ass bullshit.
Here's some of the crazy-ass bullshit Ramzan Kadyrov does:
Hired the head of Chechnya's Agency for Strategic Development by holding a game show in which the winner won the job.

Uses a vast majority of federal funds to buy things for himself.

Assassinating Chechens who oppose his authority.

Torturing those who oppose his authority.

Torturing and assassinating for no real reason.

Murdering journalists who report on his regime.

Mounting severed heads of Chechen guerrillas for townspeople to see.

Murdering former bodyguards who speak to the press.

Rounding up, jailed and murdered homosexual men as part of a crackdown on homosexuality in the region.

The list of atrocities goes on far too long to include here.
Here's what he told HBO in July 2017 regarding gay people in Chechnya:
If we have [gay] people here, I'm telling you officially their relatives won't let them be because of our faith, our mentality, customs, traditions. Even if it's punishable under the law, we would still condone it.
Translation: If we have gay people here, they can be killed and we'll make an exception in the law for those doing the killing.
This is just a partial list, of course. Kadyrov is so depraved that the United States used the Magnitsky Act on Kadyrov and five other Russian nationals in 2017, accusing him of repression, torture and murder. He has committed crimes against humanity, restricted the lives of women so they are subservient to men, and generally been a genocidal dictator.
And if you want to learn more, I urge you to read the reporting of Karim Zidan, who has covered this man more closely than anyone on the planet.
But the thing you need to remember about this murderous fuck right now is that he's got a real good friend. You might've heard of him.
Khabib Nurmagomedov.
See this picture right here?
This picture was taken after reports had already surfaced about Kadyrov rounding up and murdering gay people in Chechnya. This was in February of this year.
There are countless images of Khabib cozied up to Kadyrov. Here's a few.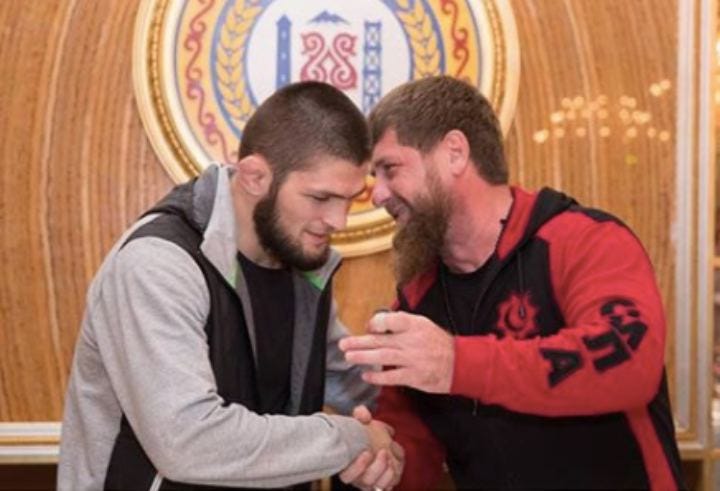 The thing is, it's pretty clear these aren't one-off moments captured on film. These aren't cases of Khabib being out in public or walking back to his hotel after a fight and being accosted for a photo by a fan/genocidal warlord. Nurmagomedov and Kadyrov have a relationship built on Nurmagomedov's fame and Kadyrov's ability to call Khabib one of his own.
Yep, Kadyrov has a "fight team" of his own. It's called Akhmat FC, but it's not really a fight team or an event. It's really just a way for Kadyrov to pay UFC and other stars exorbitantly to pretend to enjoy his company. Nurmagomedov is in the inner circle. But human-weasel-agent Ali Abdelaziz has funneled other clients—including Chris Weidman, Frank Mir and more—overseas for Kadyrov to delight in. Ask him about it, and Abdelaziz goes greasy, saying words without saying anything at all, likely because he doesn't want the gravy train to turn into a murder train.
Luke Thomas grilled Abdelaziz on the subject a few months ago, and it's worth reading and listening to just to hear Abdelaziz try and figure out a way out in real time.
Luke Thomas: Human rights observers say that he has instituted a gay purge in Chechnya.
Ali Abdelaziz: Listen, human rights said that in Iraq a lot of people were sexually abused, but I don't believe — listen, at the end of the day, I don't know. It's politics, right? And I know people mix politics with sports all the time. And I think Russia has sanctions and the United States has sanctions against Russia. I think we hear it on CNN.

You understand? And if a guy there, he's a president of a country, you're going to shake my hand or shake my father's hand? What am I going to say, I'm not going your hand and I'm in your country? Can you do that? Even if you want — let me tell you something — even if you want, you cannot.
(You can)
Abdelaziz: But the whole thing is, everybody said, 'Ramzan does this, Ramzan this, Ramzan this,' right? At the end of the day, it's not our business what he does, because we don't…

Thomas: "It kinda is.
Abdelaziz tried to frame the whole thing as, this guy is the president and he wanted to shake Khabib's hand, so of course he had to shake his hand. And I guess there's some semblance of truth to that, but not in the way Abdelaziz meant. If you refuse to shake Kadyrov's hand, well, he might have you murdered.
But again, that's not what Abdelaziz meant. He was just making shit up on the spot to try and make it seem like anything other than the truth, which is: Khabib Nurmagomedov is a known and repeated associate of a murderous, genocidal warlord.
After Nurmagomedov's win over Conor McGregor last November, Kadyrov held a banquet in his honor at the dictator's palace in Grozny. Kadyrov gave Khabib a motherfucking Mercedes-Benz W222, which starts somewhere around $150,000. Khabib gave Kadyrov a Reebok fight kit, which starts somewhere less than that.
The point is, Nurmagomedov and Kadyrov are tied together, and Khabib is okay with it. And that's why we have to start doing some hard thinking about who we support, and what they're about. Because, sure, leave politics out of MMA or whatever. But mass incarcerating and murdering of groups of people you don't like? That's not fucking politics. That's genocide.
What Are We Supporting? Are We Okay With It?
I know a lot of you watch fights because you want to see fights.
MMA events are an escape from the nonsense you deal with everyday. You want to sit back, crack open a few cold ones and watch fights between two dozen people you've never heard because, eventually, you'll get to a fight you really want to see. Khabib vs. Poirier is a fight I really want to see. Not because it's a toss-up; I have a pretty good idea how it's gonna go down. But in this sport, shit happens.
And, yet.
As much as I like watching Khabib Nurmagomedov humble people old-country way— and as much as I'd love to see Poirier pull off a stunning knockout—there's going to be a thing in the back of my mind reminding me that one of the guys in that cage is okay with gay people being rounded up and executed. I'm not saying Khabib is a murderous, genocidal lunatic bent on killing gay people. He's not. But he's fine associating with a man who most certainly is.
He's fine taking Kadyrov's money and his cars and being wined and dined. He's fine being in the inner circle. And that's guilt by association, you know?
The UFC is guilty here, too. They've done nothing to limit Kadyrov's interactions with their athletes. Ever. They haven't even taken the simple step of renouncing this murderous, genocidal maniac with a flack-ish "we here at the UFC don't condone this kind of behavior" release. They just ignore it.
Which isn't all that surprising, I guess, given all the things involving Abdelaziz they're currently ignoring.
I digress.
When he steps in the cage Saturday night, I'd like to think Nurmagomedov will be proving to the world just how advanced, how skilled, how much better he is than everyone else.
But I've got a hunch the only person who matters is a despicable warlord watching from his castle, thousands of miles away.
If you enjoyed this free story, please consider a subscription to Whizzered. Your support helps fund more work like this, and helps me expand into more features, profiles, and podcasts, and also helps me hire freelance writers to contribute stories you'll love at a fair rate.