The Best MMA Stories Ever Written
This is the online version of the popular Whizzered newsletter service. To get stories like this one in your inbox, enter your email address into the box below: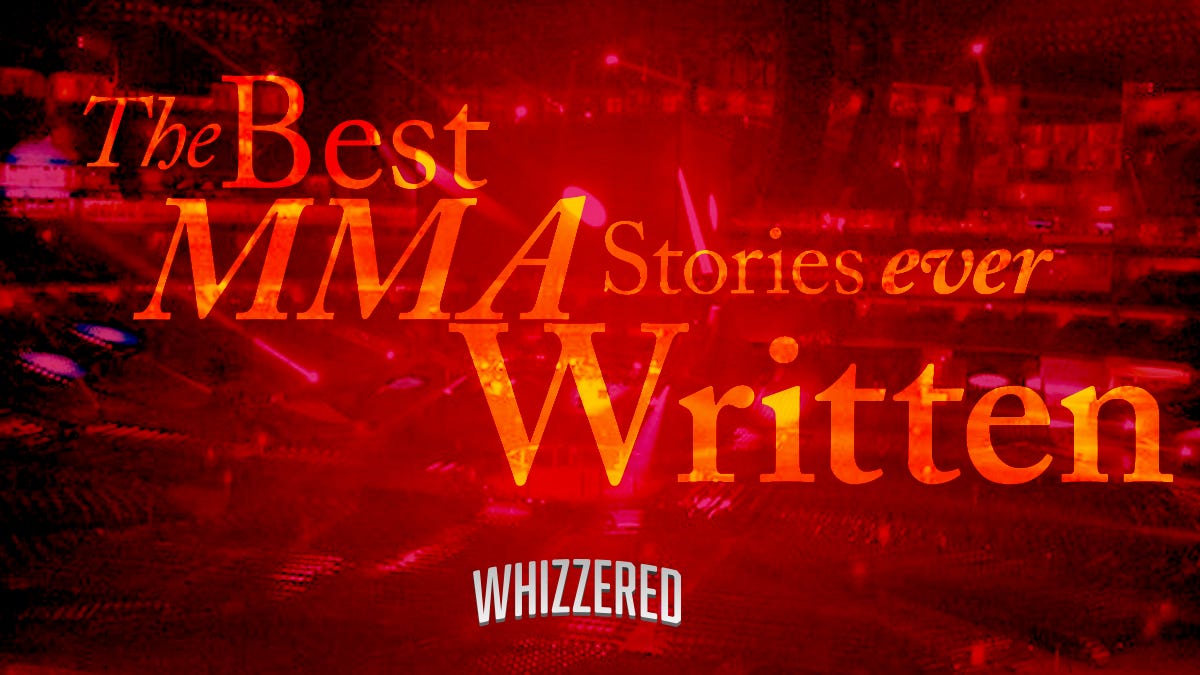 Nearly every sport has at least one compilation consisting of the best stories ever written about it.
Nearly.
The Best American Sports Writing series has been a day-one purchase for me for nearly 20 years. The stories in these compilations weren't just great stories or fine examples of writing; they inspired me to get better as a writer. They still do. And they bring me back to Earth. There are times where I'll feel pretty damn good about a story I've just turned in, and then I'll read something like Wright Thompson's masterpiece on Michael Jordan and realize I'm still so far from being the writer I want to be.
To my knowledge, mixed martial arts has never had a compilation of its best work. In 2019, the media world as a whole is almost entirely dedicated to a never-ending news cycle because that's how we stay in business. Mixed martial arts is no different. There is a constant stream of fight cards to preview, predict, analyze and recap, which leaves little room for the slower-paced kind of storytelling we used to read in magazines, back before the internet came along and ruined everything.
But even with most resources dedicated to the here and now, you can find some great storytelling in mixed martial arts. I asked readers on Twitter and other media members to send me their favorite stories ever written about the sport, and they responded enthusiastically.
With the past taken care or, my hope now is to turn this into a yearly series, published in January or thereabouts, which features the best MMA writing from the previous year. If you read something that you feel deserves inclusion on that list, send it to me.
If you enjoy this list, or want to support the hours that went into compiling it, please consider a subscription to Whizzered.
Disclaimer: The following list is in no particular order and is is no way definitive.
---
Shaun Al-Shatti (MMAFighting.com - January 22, 2016)
Summer slips into autumn and at a small Canadian show over 2,000 miles away from home, Sam scales into the Octagon against an unheralded 26-year-old kid touted for his submission prowess. Everything feels off. Fifty seconds later, another big hook thuds into Sam's chin and sends him sprawling. The kid is celebrating and the crowd is roaring and Sam is just caught in the canvas' lonely embrace, eyes glued to the monitor, swearing at himself. This is what it's come to? The kid calls Sam a childhood hero of his in a post-fight speech. Sam can't hear it. It took 12 years and 31 fights to get knocked out once. Now he's at three straight.

His announcement comes a few days later. It's a quiet one, just like Mark's. You half expect it. Sam retires from his life's ultimate pursuit with a simple 100-word statement on a UFC serial show. In retrospect, this day has been coming for a long time now. He could feel it. Apparently everyone else could too. One can only grope around the darkness for so long until either finding the light or adjusting to the black. Sam adjusted to the black a while ago, way back in April. Likely before. They all did, because without The Coach, what else was there to do?
Taffy Brodesser-Akner (Matter, December 9, 2014)
Ronda seems unstoppable and unbeatable, though everyone at the top seems that way until they are stopped and beaten. Cris "Cyborg" Justino almost certainly could beat Ronda, but she failed a drug test in 2011 and so she's never been allowed in the UFC. Here Dana takes out his iPhone and shows me a picture, this one of Cyborg in Thailand at the beach, taken the weekend before, and posted to her social media. She's in a bikini and is muscular, so muscular that Ronda said she could never fight Cris because Cris isn't even a woman; Cris is an "it." But Ronda doesn't want to fight Cris because she knows she'll lose. "Does she not look like she's on steroids?" Dana asked me. "Tell me the truth."

"You all look like you're on steroids to me," I told him. He laughed hard and thanked me for the compliment.
Chuck Mindenhall - March 2015
He wasn't on social media. I asked around with my colleagues and other media members. Nobody knew. I tried Marc Laimon, who was in Thacker's corner when he fought Leben, and he didn't know. Neither did Florian or Leben or Koscheck or any of the cast that I came across. On a lark, I asked Sarah Kaufman, who's from the area. "Sorry, I don't know who that is," she said. I tried Thackers in the Vancouver area. I called area gyms, those closest to Whonnock, the town he was from in the outlying section of the Greater Vancouver Regional District (GVRD), but none of them had ever heard of Jason Thacker. I asked anybody and everybody I could think of who might have associations to Thacker, but nobody knew what happened to "Strange Brew."

It was possible that this time he really was dead.

And if not, one thing seemed clear: Jason Thacker, the man who never really belonged, had become somebody who didn't want to be found.
Michael Dolan - October 2018
The last time Jared Gordon died was on Christmas Day of 2015. After his heart was restarted by an Emergency Medical Technician and he was resurrected from the dead, he remembered lying in a speeding ambulance and opening his eyes to see members of the New York Police Department looking down at him. The officers weren't happy about responding to a drug overdose call on a frigid Christmas afternoon. There were presents to be opened, dinner to be eaten with family, sports to be watched on television.

"Am I going to jail?" Gordon asked the officers.

"No," one of the officers said. "It's Christmas, and none of us feel like doing the paperwork. We're taking you to Mount Sinai Hospital"

"Where are my drugs?" Gordon asked?

"I think we're going to hold on to those," another officer said.
Ben Fowlkes - 2012
I had come here because of a brief conversation I had with Wittman three months earlier in Anaheim, Calif. Sitting in the lobby of the Hyatt Regency, just down the street from Disneyland, I'd mentioned to Wittman and his manager, Lex McMahon, my idea for a book. One year in the life of an MMA gym, following the ups and downs of the fight team and documenting what happened and how things changed.

"A lot," Wittman said. "That's what changes in a year."

He couldn't have known then how right he would be before it was all over.
His Smashing Machine days over, Mark Kerr reflects on then and now
Josh Gross - May 2015
After arriving at the Maksoud Plaza Hotel, situated on Sao Paulo's highest plateau, Alonso heard murmurs that Kerr was more ordinary than impressive. Talk backstage painted the 28-year-old from Toledo, Ohio, as a run-of-the-mill college wrestler. People speculated Kerr might revolt against the violence of the anything-goes format. That the sight of blood would make him quit. That despite an imposing physique and pedigree, in truth, he didn't even want to be there.

Many wrestlers told Kerr he would make a dominant fighter. He never truly believed them. Yet here he was peering over a cliff's edge. Richard Hamilton, Kerr's trainer and manager at the time, generally exercised positive reinforcement around his fighters. When it came to Kerr, making threats was the only way he thought to coax the "6-foot-1, 265-pound gorilla" into the ring.
Jonathan Snowden - July 2017
"I walk in to do a pee test, and somebody hands me a cup," former UFC champion Chuck Liddell says. "I head down a hallway, and there's a left, then a right, then another left. I go in this bathroom by myself and pee in this cup. I go back to the room, and there's no one in there but there's a bunch of other cups with people's names on it.

"Finally, someone shows up and is like, 'Just put it over there.' I wondered, 'What the hell is going on?' What was the point? There's no way they were testing any of those cups. I could have had 15 other people fill that cup for me."
Ben Fowlkes - February 2010
I was tired of thinking I knew about MMA in Japan. I had the collection of PRIDE DVDs. I did a few interviews at odd hours with fighters' managers acting as willing translators. I talked to people who had witnessed Japanese MMA firsthand. I talked to people who had talked to people. It was no good. I had to see it for myself. So I set off on a 5,000-mile trip to experience the biggest MMA event of the year on New Year's Eve in Tokyo.

The guidebook turned out to be a mixed blessing. On one hand, it warned against the many serious breaches in etiquette I was almost sure to commit—unforgivable sins like eating while walking or blowing my nose in public. On the other hand, it was comically vague at some points, such as when it listed under the heading of things to avoid, "The Yakuza, political extremist groups, and certain religious sects."

An exhaustive resource it wasn't. Thanks, handbook.
Chad Dundas - December 1, 2017
Francis Ngannou's new apartment has a spectacular view.         

From his small third-floor balcony, Ngannou can look out over the western edge of Las Vegas and see the rugged cliffs of Red Rock Canyon cutting a line across the horizon. The view is one of the things Ngannou likes best about the apartment, which represents the culmination of a meticulously planned move from France to the U.S. six months ago.

The wide-open Nevada landscape fills him with a sense of freedom, he says. For most of his life, having a place like this was an impossible dream. The fact he's made it here at all must seem like a miracle.
Karim Zidan - December 2017
Khabib smiled and remained silent, clearly humbled by his legions of vocal supporters of all shapes and sizes. Despite being a Russian citizen of Dagestani heritage, Kazakhstan's largest city was overrun with his fans – a reminder that his popularity has been without borders. His religion provided common ground with the Kazakhs, 70% of whom practice Islam. Many who approached to ask questions during the Q&A greeted the fighter with 'Salam Alaykum,' Arabic for 'Peace be Upon You,' a greeting common among Muslims of all races. It was also a way for fans who shared a similar background to identify with Khabib, to let him know that his fellow Muslims in post-Soviet countries wanted to share in his journey.
Shaun Al-Shatti - November 2015
It really is crazy in retrospect, how high Aldo climbed in such short order and how it's possible he may just be getting started. Even crazier, how stardom was the only opponent to ever duck him during his rise, and now is the very thing sprouting in cartoonish surplus across the Nevada desert. Because UFC 194 was never the biggest event of the year due to Brazilian stoicism. That credit goes to the mouth of the Eire that never stops and never sleeps. Aldo's gangster cool was always just the perfect juxtaposition for the insanity.

So on Dec. 12, when Irish green and Brazilian gold converge on Las Vegas, the world will at last see what the cult of Mystic Mac can muster. Legends, champions, and journeymen have fallen alike, one by one, before the sword of the greatest featherweight to ever grace the cage. Conor McGregor is the next contender in line, but for now theirs is a brotherhood of fifteen, and this is their story. The story of how each came to learn that when you come at the King, you often leave with a limp.
Jonathan Snowden - July 2017
Sitting in Parlour e.lev.en—an upscale hair salon in Huntington Beach that exudes an edgy cool—Cyborg frowns for the first time in hours when Rousey's name comes up. And hours is no exaggeration. That's how long it takes to turn her brown hair a dazzling red and her friend and fellow fighter Gabi Garcia's long locks an incredible shade of purple.

"You know what they say? 'Red hair, don't care,'" she says with a laugh. "Before this, I had extensions. Now it's my real hair, a little shorter. It's different. It's fun. People look at you different with the hair and the makeup."

For Cyborg, it's a feminine respite in a life engulfed in MMA's masculine energy—sipping complimentary coffee and gabbing with friends and family in Brazil courtesy of Facetime.
Jake Rossen - Date Unknown
It was time to move on. For February 1997's UFC 12, fighters would be split into two separate weight divisions and four-man brackets, an attempt to appease a New York legislature that would ultimately prove pointless. 

But before that happened, SEG planned a going-away party for the Octagon's original format. For the Ultimate Ultimate 1996, held Dec. 7 in Birmingham, Ala., the promotion managed to secure the most talent-rich lineup of any show of the era. Shamrock would make his first appearance as a seeded fighter in years; Abbott, a volatile street fighter, was at the height of his popularity; and onetime firefighter Don Frye, the UFC 8 winner, was eager to prove his mauling at the hands of Coleman at UFC 10 was a fluke. 

When it was over, Frye was the last man standing, but by only a slim margin. Abbott delivered the UFC's most gruesomely unsettling finish to date, and one athlete started bleeding before the event even began.
Chuck Mindenhall - October 2015
It'll be well into the afternoon by the time we get around to the Russian Mermaid Spa in Sea Gate on the western tip of Coney Island, and everything we pass, it turns out, has a history. Just off from the Verrazano-Narrows Bridge, the driver points out a small green island that used to be a haven for spies during the Revolutionary War but is now a bird sanctuary. Like a tour guide, he knows every point of interest. Over there is the cannon, he says, and over there, just across the river, facing us? — more cannon at Fort Wadsworth, so that whenever unwelcomed parties happened through the Narrows a couple hundred years ago both sides could "blow them to shit."

The driver, a native New Yorker, can talk a blue streak. He drives like an asshole. It's not hard to like him.
Ben Fowlkes - September 2011
Josh Barnett didn't pack for this weather. He heard his semifinal bout against Sergei Kharitonov in the Strikeforceheavyweight Grand Prix would be in Cincinnati in early September, and he expected hot and muggy. He expected the kind of humidity that makes you have to peel yourself off the seat of a car. He didn't expect to get off the plane to this gray, rainy city, which is why he's still walking around in his usual southern California uniform of heavy metal T-shirt and jeans, getting soaked every time he leaves the hotel.

There's no doubt about it: Josh Barnett needs a jacket, and that means Josh Barnett needs to go shopping.
Duane Finley - August 2012
In his hand he held an envelope which I would later find out contained Foster's MRI. Apparently a few things had arisen on the test but the doctor didn't appear concerned in the slightest. I heard Foster ask him if this would affect his upcoming fight and the doctor calmly told him it wouldn't be a big deal. This is what I heard with my own two ears and we departed moments later with Foster in high spirits.
Bill Simmons - Date unknown
Quick interjection: I'm not saying that the UFC is for everyone. In boxing, you might see somebody get knocked out and you might see blood ... in the UFC, you will definitely see somebody get knocked out and you will definitely see blood. You also may endure at least one knockout that leaves you uneasy and uncomfortable afterward, like seeing a sex scene involving Tony Soprano's sister, but worse. Just know that going in. These guys aren't playing around.
Greg Howard - December 2014
Jon Jones became the baddest motherfucker on Earth by making the baddest motherfuckers on Earth give up. He makes them lose their will to fight. He makes them surrender. Everyone can get finished, and most do, and this is why some might find it within themselves to laugh at times they've been knocked out. But even the saddest tomato cans pride themselves on not giving up. It's why so many fighters, losing consciousness while tied in a hold with nowhere to go, will struggle until they sink into the abyss rather than tap.
Jonathan Snowden - July 2016
There's nothing very Quaker about what Jackson's become, though. Nothing very Quaker about teaching people to hurt each other as effectively as possible. And nothing very Quaker-like about the gun between us. One time Jackson and Helvie ran into some meth dealers sitting around a campfire. Breaking Bad, while fictional, is grounded in some harsh truths.

There's also a knife on Jackson's belt, because, well, it's New Mexico, and the local wildlife, human and animal, can be unforgiving miles from anything you could reasonably call civilization.

But today, the only signs of life are cattle that block our path, Jackson stopping to ask them for directions, because why not laugh if you can? For Jackson, laughter didn't always come so easily.
Julie Kedzie - May 2015
Peter kept bringing up the beauty of the intersections of physicality and art; how he admires Mixed Martial Arts because it is art in action. "What you make with your fights is a beautiful art. The human form engaged in purposeful action. Such high art," he drawled in his Australian accent. Greg added that the art doesn't just stop there; how it is all connected to math and if you disseminate it to its basic levels, combat can be linked to all things; chaos theory, game theory, evolutionary biology.

Love, I added in my head. And then thought, But damn, combat is also about trying to hurt another person. Hard to be quite so esoteric and removed when someone won't stop smashing her elbow in your face.
Ben Fowlkes & Christian Stein - October 2, 2014
You see them standing there before it starts. A shirtless male kickboxer, idly checking his cup. A woman in a sleeveless shirt, clenching her bare fists and bouncing from foot to foot like she's standing on a hot stove.

If you didn't know better, you'd swear they were about to fight, this man and this woman. You'd also swear that this guy standing between them in a T-shirt that reads "No Rules" was encouraging them to do so.

You'd be right, of course, and depending on your own personal sensibilities, you'd probably also be fascinated or horrified by what comes next.
Julie Kedzie - November 2016
Did I hug him hello? Did he hug me? I wish I could remember. I had cheered Josh to victory that night till my throat was inflamed, but I remember feeling awkward, as if I couldn't quite equate the person I had begun to message incessantly with the man standing before me. I remember that I was embarrassed that my blue dress was too low-cut, that I was sweaty and my makeup was smeared, and that I looked a fool standing outside of a bathroom in Vegas in my thirties, too-tall shoes in hand.
Scott Harris - January 2018
Everyone settles in to recap their weekends. The banter moves from golf to TV shows to even, for a few bracing moments, the Browns. Stipe Miocicis not the UFC heavyweight champion at this table. He's a firefighter and a paramedic with the Village of Valley View Fire Department, and this is his happy place.

"I'm obsessed with golf now," he says to everyone and no one. "I want to get a simulator. I bet I could build one. How does that work?"
Duane Finley - November 2015
Albuquerque is a place where the word "easy" doesn't exist, and everything one desires must be earned rather than given. This dynamic suits Condit perfectly since the path of most resistance is the one he's naturally drawn to. It's an appeal that has always been present, and the further he's pushed into his life as a professional fighter, the more he's come to understand the reasons why.

Nevertheless, the deeper layers of the welterweight title hopeful would be revealed a bit further down the road. The moment at hand was filled with revelers and onlookers up and down the city's historic Central Avenue.
Shaun Al-Shatti - June 2014
Roland Sarria is telling me we've met before. He's lying. This is the first time. He says he was a Templar knight in a past life, and that I was Saladin, the 12th century sultan who reigned over Egypt and Syria for almost 20 years. He says he traveled as a peace envoy on the order of the Catholic Church, hoping to barter a treaty between our two armies. We broke bread over a warm hearth and decided, he and I, that we weren't too different from one another after all. War was avoided that day.