The Sunday Reading Room: 09.07.19
Your guide to the best combat sports writing of the past week.
This is the online version of the popular Whizzered newsletter service. To get stories like this one in your inbox, enter your email address into the box below:

This week felt different. It was a heavy one.
We all wanted to get excited for the lightweight title unification match at UFC 242, but instead we spent the week figuring out how to separate a talent from his questionable ethics, or deciding if we even wanted to. I wrote some hot takes on the subject, and even after just a few days, they don't sound as good as they did when I wrote them. I thought Khabib Nurmagomedov and his relationship with Ramzan Kadyrov was just a simple case of right or wrong. It isn't. It's nuanced and geopolitical, fraught with tension and politics and intertwining bitter histories that I never knew existed, much less understood.
This week's Sunday Reading Room is a little more intense than past issues, but everything here is worth your time.


Four years ago, Abdo was barely a blip on the radar. Today, he is one of the most popular graphic designers on the internet, and his work in combat sports only tells half the story — because for however successful he is in boxing and MMA, he is tenfold more successful in the world of comics. In the past year alone, he's had work commissioned by nearly all of the industry titans — Marvel, DC Comics and even smaller publishers such as Bloodshot's Valiant Comics. But his true career highlight came in January, when Hollywood kingmakers Anthony and Joseph Russo — the Russo Brothers of "Avengers" fame — handpicked Abdo to lead the promotional design for the epic conclusion of Marvel's 12-year, 22-film magnum opus, "Avengers: Endgame."
Shaheen Al-Shatti (The Athletic)

We laughed right on cue. This guy Khabib, what a trip.

But then, hold up, wasn't that Nurmagomedov posing for pictures with Ramzan Kadyrov, the strongman dictator from Chechnya? Like, a lot of pictures? To the point where it didn't seem like mere regional political obligation? To the point where it started in fact to seem like he was either best buds with or a willing propaganda tool for the guy in the midst of a reported "purge" of gay people in his home region?
Ben Fowlkes (The Athletic)

At the time, it seemed like Nurmagomedov was just plopping down about $50 for a hat at a nondescript airport gift shop. What he ended up purchasing was a tangible part of his identity. When many people hear his name, the first thing they think of is the large sheepskin hat. It has become an article of clothing of great significance.
Marc Raimondi (ESPN)

While the UFC may have avoided a repeat public relations fiasco regarding labor rights, the upcoming PPV show is still steeped in controversy. The promotion's five-year deal with Abu Dhabi raises concerns about the UFC's role in the UAE government's sportswashing – a term coined by Amnesty International to describe countries using sports to cleanse their human rights atrocities.

According to Human Rights Watch, UAE citizens and foreign nationals who publicly speak out against the local government are at risk of facing arbitrary detention, forcible disappearances, and torture. The UAE government also limits freedom of expression by using "digital campaigns" such as surveillance technology to monitor dissidents.
Karim Zidan (The Guardian)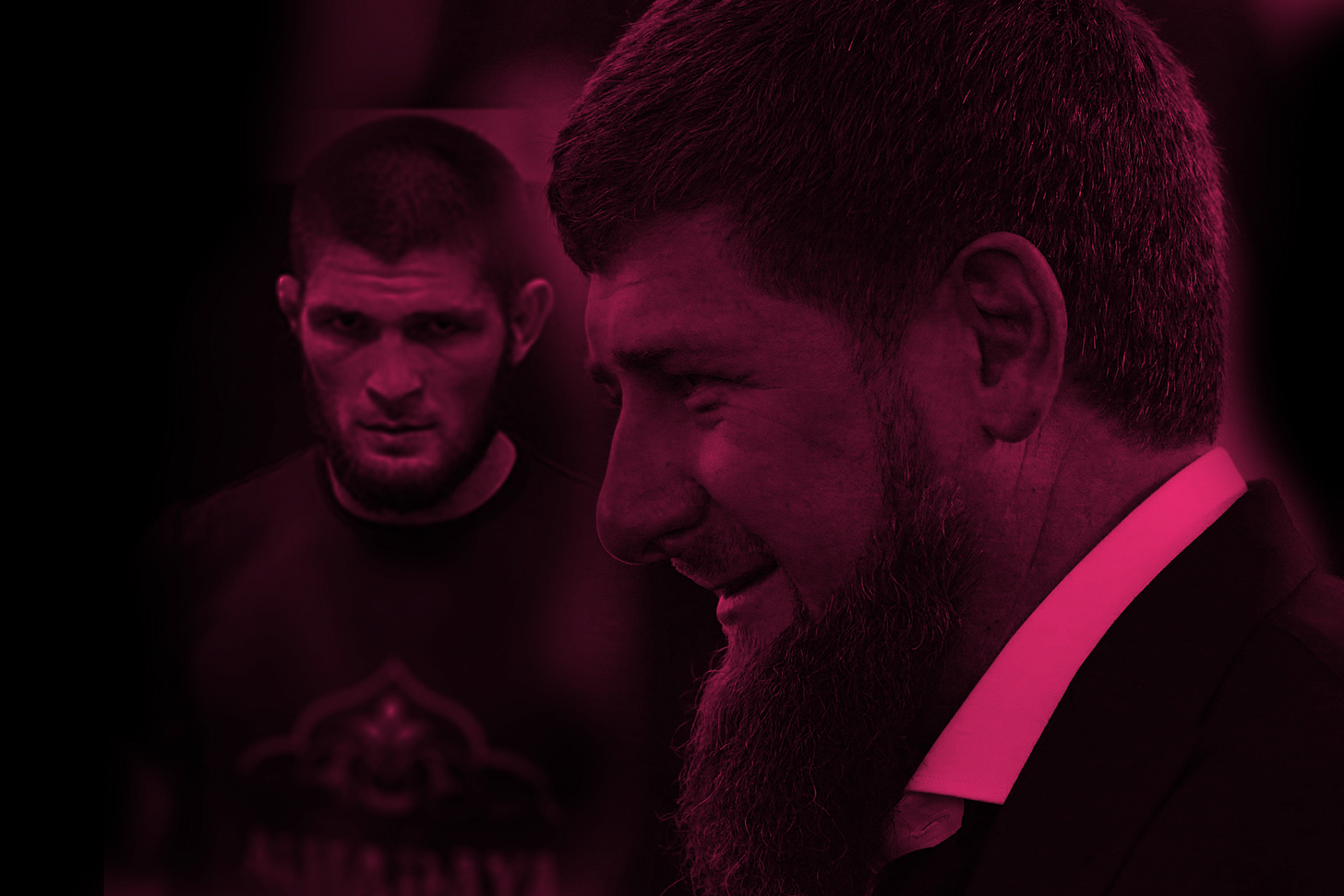 REPORTING ON Ramzan Kadyrov, the brutal ruler of the Russian republic of Chechnya, is one of the most dangerous jobs in the world. Two women who sought to chronicle the human rights abuses of Mr. Kadyrov's regime, Anna Politkovskaya and Natalia Estemirova, were brutally murdered in 2006 and 2009, respectively. So were other Kadyrov opponents, including Russia's most prominent opposition leader, Boris Nemtsov, who was gunned down four years ago.
Washington Post Editorial Board

The kingdom's fascination with high-profile sports events fits into the broader Vision 2030 campaign, which seeks to present the country as a modernizing one. It also presents Crown Prince Mohammed Bin Salman as a reformer anddiverts the average citizen's attention away from the country's abuses of power and its aggressive stance on foreign policy in the Middle East region. This includes the murder and dismemberment of Washington Post journalist Jamal Khashoggi at the Saudi embassy in 2018, and the kingdom's ongoing war with Yemen, which the United Nations has labeled a humanitarian crisis.
Karim Zidan (Bloody Elbow)

If we were using moral arguments to cut Penn from the roster, the fact there's a restraining order out on him after his wife alleged years of physical, sexual, and emotional abuse should have been enough to ditch him a long time ago. He also allegedly threatened a neighbor with a machete earlier this year.

But moral arguments clearly don't win the day here in the UFC's Endeavor era. Conor McGregor's fighter bus attack was used in UFC 229 promotional material. LGBT-murdering Chechen strongman Ramzan Kadyrov was welcomed cageside at UFC Moscow in April. If neither of those items trouble Endeavor CEO Ari Emmanuel, then it hardly seems likely Penn's actions will move the needle.
Dave Doyle (USA Today)

"He asked me yesterday, I don't come to media [day]. I said I come but I don't talk with media. I come, stare down, and I leave. But why I don't talk with media? Because three months, same questions," Nurmagomedov told MMA Fighting. "Father? What do you think about Dustin? What do you think? You respect him? No? How was your training camp?

"90 percent the same thing. Right now, same thing."
Bloody Elbow

"It's kind of ridiculous sometimes, when you think about it," Foster said. "The stuff fighters put themselves through to cut those last few pounds, I mean, it's all for a piece of paper saying what weight you have to fight at. I know it's a contract and we should honor our contracts, but we're talking about a piece of paper. I don't want to see someone go to the hospital for that."

It's with this in mind that Foster decided to do something about the scourge of extreme weight cuts. Maybe it's because he's the rare state regulator who actually was a professional MMA fighter in his younger days. Maybe it's because he's been the executive director of one of the nation's biggest and most important state athletic commissions since 2012, and in his mind that comes with certain responsibilities and expectations as to how to be a good steward for the sport he genuinely loves.
Ben Fowlkes (The Athletic)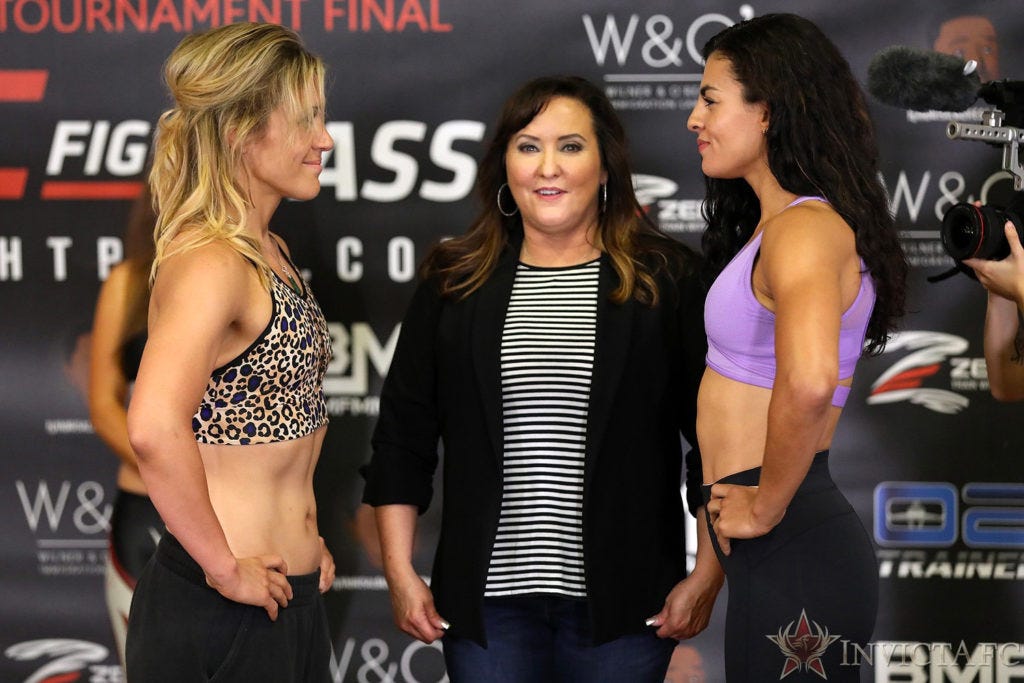 Today, Knapp stands as the only female lead executive in the sport. Invicta FC is nearly eight years into what can only be viewed as a unique and successful romp through a fight scene normally powered on testosterone. Its live-streamed events are a favorite among hardcore fans, and the Invicta FC brand itself regarded as one of MMA's top outlets, immediately behind industry leaders such as the UFC and Bellator.
Chad Dundas (The Athletic)

Whizzered is independent and backed entirely by supporters. If you enjoy the work we do here and want to help us do even more, please consider a subscription.